Complimenting Ari Engel on his ever-growing list of results in poker tournaments is almost met with resistance, always remaining his humble self. Asking about his dedication to the game, his study methods and discipline, however, is met with excitement and a willingness to convey that his success did not come overnight.
"I just play poker tournaments," Ari Engel said during the interview on the Poker Central Podcast after he took down a big event at the Bicycle Casino in Los Angeles for more than $315,000.
Today, we dive into what drives Ari Engel, why he's one of the best tournament players in the world, why there's still a gap to be closed for him in order to be competing against the elite in the super high roller events, how he uses PokerGO as one of his studying tools, and he makes five recommendations for broadcasts to watch in order to work on your own game.
With nearly six million in live tournament earnings and an impressive resume to advertise towards potential investors, Engel still sticks to his guns. With trips planned to Councill Bluffs, Iowa, St. Louis, Atlantic City and Montreal, Engel's calendar is filled with events ranging from $100 to $5,000, stakes at which he can comfortably play for 100% of himself.
"I go for the low hanging fruit," Engel refers to the choices he makes on the tournament circuit.
"I sell action at €10,000 or higher, but that's changed over time. When I final tabled EPT Prague in 2011, I had less than half of myself. This comes down to a couple of me-specific issues."
Engel goes into being around people that brought him into the game being big degenerates, turning him into a bankroll management nit.
"For most of my career, I've been way too nitty when it came to game selection and keeping my own action. As I've begun to understand that I swung too far in the nitty direction, I've tried to become more aggressive in that department by keeping a larger piece of myself and not swapping with people who I think have lower ROIs."
But for Engel, there's still a big step to be made.
"The super high rollers are just extremely-extremely tough. There's no question in my mind that a guy like Bryn Kenney is way better than me. I'm trying to work to get to the level of those kinds of players."
I won Aussie millions main event! pic.twitter.com/sjEyZ02dXt

— Ari Engel (@AriEngelPoker) January 31, 2016
Engel's quick to admit defeat versus the players who are considered poker's elite, but he also provides context to highlight a difference poker fans might not take into account. The Toronto born pro goes into how none of the players in super high roller events have all of their own action, but the way economics work in poker, that's already a huge vote of confidence about a player's game. Being able to participate in $100,000 buy-in tournaments is a victory in and of itself.
"You can't get backed just based on charisma," Engel stated.
"To even be in those tournaments you have to be so sick, because how are you going to raise millions every year to play in those events? It's only with the respects of the other great players, and that doesn't come with results but only with really, really good play."
Engel's no stranger to playing really well, but when asked about his hypothetical video game rating when it comes to tournament poker he said, "Bryn said he's a 99, Dom [Dominik Nitsche] a 95, so I guess I have to be in the mid-80s. Let's go with 86."
For now, Engel remains the most focused on playing in events where an 86-rated player is the best at nearly every table he sits down.
"If I knew exactly where their edges were, I would try and work on them, and I do to some extent. I'm trying to work on my game and get better, slowly move up, and play more high rollers, but it's really tough to compete at the highest levels."
"These main events have that mix of fields where it almost feels like my time is better spent just focusing on those. Obviously, I'm doing well in those, and as long as I'm doing well it makes sense to focus more on the stuff that I'm doing well at."
The Peter Principle, a concept in management theory, is brought up by Engel. This principle states that people will rise to the level of their incompetence, and how success at one level doesn't guarantee it at the next.
"I worry about that kind of thing a lot. It has hurt me to some extent because I don't push as aggressively to move up and play those super high stakes."
"Sometimes I have confidence issues. After a big win like this, I'm feeling quite confident, but it's not it's not the kind of confidence where I feel like I should go play in the Super High Roller Bowl, which I would one day love to."
Almost apologetic, Engel goes into not fully understanding what sets apart the Bryn Kenneys of the world from him.
"I'm not exactly sure what it is that makes them better but I have a really strong belief that they are. It sounds kind of dumb now that I can't even explain how they're better, but when you are you're playing at a table with nine really tough players it's almost like a different game.
"To play in super high rollers, you have to be really, really sharp because your mistakes get magnified. It's minor things that don't matter as much in main events that just become really important. You have to have all your I's dotted in your T's crossed, and you can't have any holes in your game, because those guys will take advantage of it."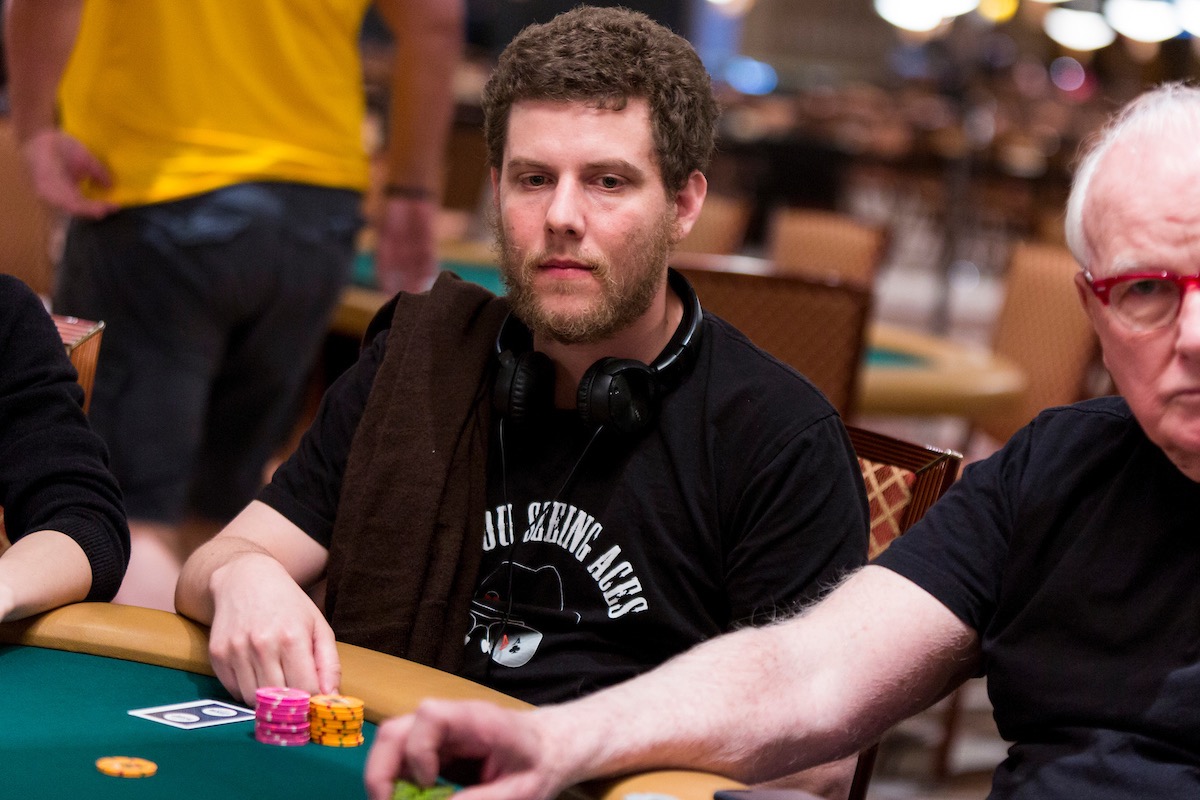 The Roadmap to Becoming Elite
Poker became a serious pursuit for Ari in 2004. As studying techniques have changed, and solvers replaced the simplicity of the available tools in the early years of online poker, he has adapted and grown along with them. However, Engel is not discarding the more traditional sense of studying the game.
"I find that watching live streams, Twitch and PokerGO very helpful. Throughout my career, I think I've learned most from watching different videos, whether it's training sites or just watching people play on live stream with hole cards. For example, watching the Super High Roller Bowl, and that's a great example, where you have Nick Schulman commentating, that's the best way to learn.
"You have a great player explaining his thought process, and you're watching with hole cards, so even when he [the commentator] tries to go simple and not really go deep, I can still think about it in different ways while that's happening. You also get his analysis, and I find those things really beneficial. Even watching low stakes, like the final table I just played, can also be really beneficial to see how people with different skill sets and at different levels react in different situations.
"Getting better is all about playing a lot, but when you do you're focused on trying to make the best decision, you might be nervous, and it's a lot easier to pick up on things, whether it's something physical or game specific when you're not playing. There's just so much to pick up, and I think it's important to both study theoretical things, but also practical things and seeing how people actually play.
We asked Ari to list a few of his favorite broadcasts to watch for both studying and entertainment purposes, and here's the five he brought forward.
The 2017 Super High Roller Bowl Final Table
Ari's Angle: "Watching the best play for all the money with the best commentator, it just doesn't get any better than that. Take the hand between Pratyush Buddiga and Jake Schindler for example, as when I'm watching that I'm just picturing myself being Prat's shoes and facing that river shove. Stepping into that mindset is such a great learning tool for any poker player, and thinking through what you would've done.
The 2017 World Series of Poker $10,000 Pot Limit Omaha Championship
Ari's Angle: "I'll be the first to admit that PLO is a game that I'm not very good at. However, there are so many interesting concepts that one can learn from watching a different game. Watching a broadcast like this often helps me think about old spots in a new light. Especially when watching a final table, and the dynamics with moving up vs going for the win are very interesting and I think that studying a final table like this will help you extract more than just knowledge about Pot Limit Omaha.
The $25K Mixed Game Championship ended with a 2-7 Triple Draw bust out, but this PLO collision propelled Stephen Chidwick to back-to-back #USPO wins. https://t.co/4E2f3MH6CL pic.twitter.com/fUKTnAhIgC

— PokerGO (@PokerGO) February 7, 2018
The $25,000 US Poker Open Mixed Game Championship
Ari's Angle: "Not often does one get to see high-level mixed gameplay, but I loved watching Stephen Chidwick win this event and crush the entire US Poker Open series. I like to watch guys like Stevie play and try to copy what I see, not just from his game but also because he has one of the best table presences in the game. When it comes to mixed game strategy, virtually all of it is focused on cash games, while all the money in tournaments is made at the end, so watching the best battle when short stacked, where each bet matters so much, is great.
Don't look now, but @RealKidPoker has over 1 million chips in the #PokerMasters $100K Championship ? #JacketHunting pic.twitter.com/av8XVukPQ5

— PokerGO (@PokerGO) September 19, 2017
The Poker Masters $100,000 Main Event
Ari's Angle: "Very similar to Stevie in the US poker open, I loved watching 'The Goose' [Steffen Sontheimer] on a heater. The entire high stakes German crew is kind of this mythical beast and watching them play at the highest level is immensely enjoyable and educational.
The 2017 World Series of Poker Main Event
Ari's Angle: "What more do I need to say then Main Event! Besides the fact that it's the most exciting final table of the year, it was also a great way to study. The three-handed play with three really good pros making these intense decisions with all the pressure on them was great. And that three-way all in was prime time poker entertainment. This event is so special, it's hard to even describe.
About studying the game through watching live streams, Engel adds, "Mostly I try to put myself in the shoes of the players that I'm watching, and think about what I would've done. Then I  consider what went into their thought process after they made their decision. Additionally, live streams are a great time to work on physical tells. I believe guys like [Phil] Hellmuth and [Daniel] Negreanu are super advanced in this regard and people like me, who come from an online background and usually aren't as street smart, have so much to learn in this department. Lastly, I try to find holes in the games of the non-professionals I'm watching and use that to build strategies that take advantage of said holes."
Circling back to the gap between himself and Bryn Kenney, Engel is very clear.
"I just need to work more on my game with regards to solvers and becoming more GTO. Then if I can get results in some big buy-in events I will build that confidence to play in those events. I think I played six or seven $25,000 events and the $111,111 One Drop in 2017. I've cashed in the two of the $25,000 events, but while it's nothing major, it's enough for me to feel like I can hold my own playing and selecting the better fields. Hopefully, I'll hit a score to increase the confidence a little more, and play some more. I wouldn't do that for something like a Player of the Year chase, but to keep getting better at the game and try to see if I can beat the best."
If you're new to PokerGO, subscribe right now and enjoy more than 100 days of live poker action on top of an extensive on-demand library for your entertainment and poker strategy studying purposes. Follow Ari on Twitter by clicking this link.