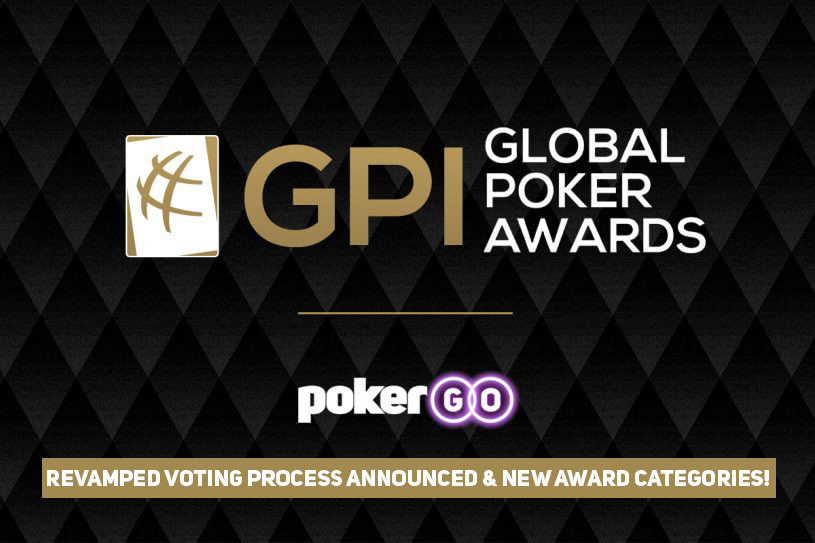 The Global Poker Awards were announced last month and today the Global Poker Index has shared with us some exciting new categories and a revamped voting process. The 2020 Global Poker Awards will be streamed live and exclusively on PokerGO on March 6th. Check out the full PokerGO Live Events schedule right here.
Global Poker Awards Voting Process
The most significant change to the voting process is very straight forward: The nomination panel will no longer vote in every category with a small jury deciding on all awards given out on March 6th. Based on outreach and conversations between the Global Poker Index and its potential jury members it will be determined who will have a say in which categories. Don't know much about who are the most exciting poker streamers? You won't get a say. You don't listen to poker podcasts? Well, that means you won't have to submit your input for that category.
The people who are ultimately selected to vote in each category will eliminate the jury process. As the Global Poker Index press release states:
"Voters will first be asked to vote in the preliminary round, where a large list of eligible candidates will be whittled down to a smaller group. Voting panel members will once again vote in this final round and those results will determine the nominees and winners in each category. Final round voting will mimic how many major sports leagues vote for their year-end awards, using a 1st/2nd/3rd place system and points are then distributed based on those votes."
Fans will have the ability to cast their vote in the 2020 Global Poker Awards which will be weighted as a single 1st, 2nd, and 3rd place vote. A full explanation of the 2020 Global Poker Awards voting system can be found here.
New Global Poker Awards Categories Announced
A grand total of 25 gold trophies will be handed out during the 2020 Global Poker Awards ceremony on March 6th at the PokerGO Studio in Las Vegas, eight of which are in brand new categories. Here's an overview of the new awards that are making their debut in 2020.
Poker Icon Awards – Replacing the Lifetime Achievement Award
Final Table Performance Award – Replacing Tournament Performance of the Year
The Hendon Mob Award – Rewarding someone who's done something exceptional within the Hendon Mob database.
Player's Choice for Toughest Opponent: Members of the GPI100 (Top 100 ranked players on the GPI as of January 1, 2020) will vote to determine who was or they believe would have been the toughest opponent to face in 2019.
People's Choice for Hand of the Year
Twitter Personality of the Year
Media Content of the Year: Three awards that honor Video Content, Written Content, and Photo
GPI Award of Merit: Replacing the Jury Prize award, the GPI will select a person or organization that deserves to be celebrated for their contributions to poker in 2019
Here's a full list of the other awards to be handed out at the 2020 ceremony.
Determined by Voting Panel:
Final Table Performance
Streamer
Vlogger
Twitter Personality
Industry Person
Tournament Director
Event of the Year
Mid-Major/Circuit
Journalist
Broadcaster
Podcast
Media Content: Written
Media Content: Video
Media Content: Photo
Awards Determined by Fans
Voted on by the fans
People's Choice: Poker Personality
People's Choice: Hand of the Year
Voted on by the GPI's Top 100 Ranked Players
Players Choice: Toughest Opponent of 2019
Selected by the Global Poker Index team:
GPI Poker Player of the Year (rankings)
GPI Female Player of the Year (rankings)
Poker ICON
THM Award
PocketFives Legacy Award (in conjunction with PocketFives)
Charitable Initiative
GPI Award of Merit
Watch the 2020 Global Poker Awards live and exclusively on PokerGO. New to PokerGO? Subscribe right now to watch all the live and on-demand poker you can handle!