After making all four 2019 U.S. Poker Open final tables, including a runner-up finish, Sean Winter won Event #4 – $10,000 Short Deck. Winter defeated David Peters heads up and is now the overall leader in the USPO standings.
Sounding slightly befuddled mixed with exhaustion and excitement, Winter said after his win, "Everything is just flowing well. I'm focused, feeling mentally strong and I'm getting lucky in the right spots and getting away with things in others."
Winter has previously stated he thinks Stephen Chidwick is still the favorite to win the added $100,000 and the USPO overall title, considering Chidwick's mixed-game prowess. The mixed-game tournament was one of the events Chidwick won during his 2018 USPO Championship quest.
"I probably need another first or second place because I think Stevie is going to do well the rest of the series. I haven't really put much thought into it until this point and I might need 600 points to win this thing."
As for this event, Winter defeated Peters in a rather one-sided heads up match, with the exception of a Peters double up. Peters entered the day as the chip leader and took home $100,800 for his second place finish in his first 2019 USPO final table appearance. Winter knocked him out when he flopped two pair and Peters was drawing almost dead, needing running jacks or broadway cards to stay in the tournament.
Chidwick also made this final table, but finished sixth ($25,200) and gave Winter the chance to move from third to first place in the USPO overall standings. It was actually Winter who eliminated Chidwick when Winter limped with kings and Chidwich shoved with
. Winter rivered a full house and sent Chidwick to the rail.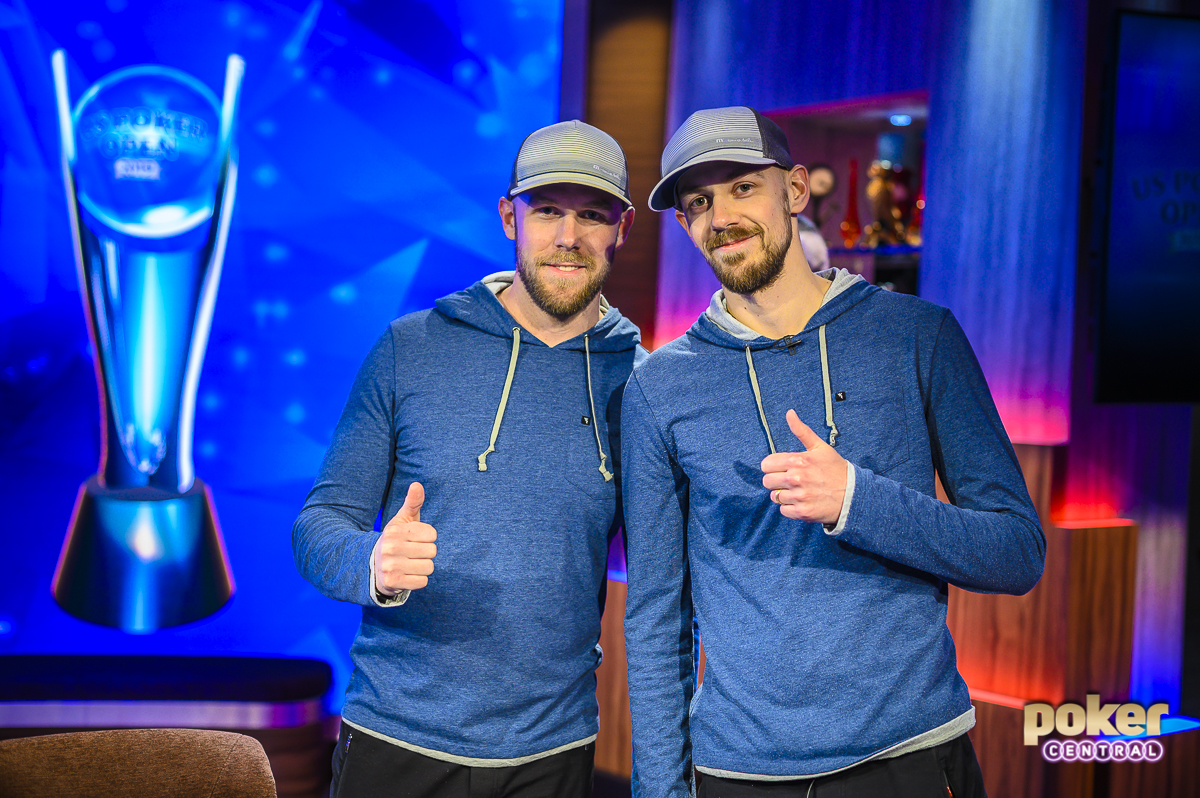 Ben Yu was next to go and took home fifth place for $33,600. He was Eliminated by Seth Davies. Yu shoved
first to act and Davies called with
on the button. Davies made a straight to eliminate Yu.
Ben Lamb managed to build a stack after entering the day as the shorty. He was eliminated in fourth place ($42,000) when Winter limped with kings again and Lamb shoved [QkJc]. Lamb could catch up and Winter eliminated another player on his way to the eventual victory.
Davies fell in third place, limping
and calling a shove from Winter with
. Winter flopped two pair and stayed ahead to send Davies home with third-place money ($67,200).
The heads up portion of the tournament didn't last much longer and Winter capped off his fourth consecutive final table with a win. The payouts of Event #4 are as follows.
2019 U.S. Poker Open Event #4 Payouts
Name
Points
Payout
1
Sean Winter
200
$151,200
2
David Peters
140
$100,800
3
Seth Davies
100
$67,200
4
Ben Lamb
80
$42,000
5
Ben Yu
60
$33,600
6
Stephen Chidwick
40
$25,200
Sean Winter now leads the overall standings by a healthy margin over Stephen Chidwick with other event winners Jordan Cristos and Lauren Roberts just one more big run away from contending for the top spot.
"Right now, I don't really want to do anything else but play these events. When you've got a nice hot streak going you just want to keep it going. This is the most fun poker gets."
2019 U.S Poker Open Championship Standing After Event #4
Name
Points
Prize Money
1
Sean Winter (4)
440
$419,900
2
Stephen Chidwick (3)
340
$354,950
3
Jordan Cristos (2)
240
$206,200
4
Lauren Roberts
200
$218,400
5
Manig Loeser (2)
180
$146,200
6
Koray Aldemir
140
$159,200
7
David Peters
140
$100,800
8
Seth Davies (2)
140
$94,500
9
Joseph Cheong
100
$112,500
10
Martin Zamani
100
$83,200
Stay tuned right here at PokerCentral.com for the exclusive live coverage of all the U.S. Poker Open action from the PokerGO studio. New to PokerGO? Subscribe right now to not miss a minute of the action.