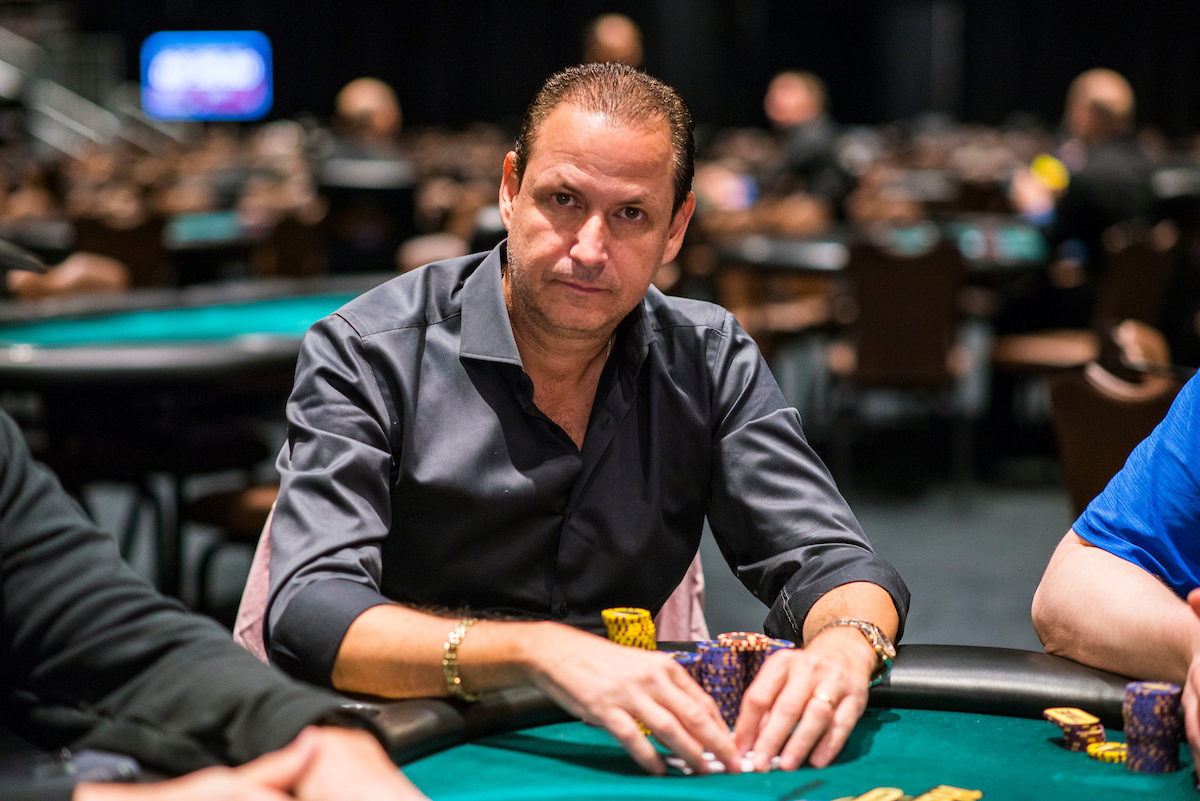 GOING FOR THE TREBLE
"This could be my third WPT title." Says Eric Afriat on the cusp of World Poker Tour greatness. For the ebullient poker player and WPT regular, he'll go into the final table of the WPT Seminole Hard Rock Poker Showdown in good spirits and with high hopes.
"It's really going to be fun. I just don't have that many chips, so it'll be another fight. The last one I won in Atlantic City, I came into the final last in chips, so I'm optimistic being fourth in chips."
TRUSTING HIS INSTINCTS
Afriat has a mountain to climb, but then, he's used to it. He's had to switch up play and trust his instincts more than ever before to get this far, and now he's determined to play the final his way. He's well aware of another player's pre-final preparation, as he's close friends with Ami Alibay.
"I've spoken with Ami and he's been looking at videos and tells. I told him 'I'm not going to do anything; I'm just going to arrive at the final table and feel my way.' I built my life's successes on instinct."
Afriat has built a reputation as someone who is an extremely strong judge of character. He's brought his life skills to the poker felt, and his personality always comes through.
"People say 'How do you become such a good poker player?' and the answer is that you need to bring your whole life to the table to be successful."
Read the full story of Ami Alibay's run to this final table here as he talks about his relationship with Eric Afriat and the late Rene Angelil.
REPEATING THE TRICK
Afriat has already won the WPT Seminole Hard Rock Poker Showdown once, and if he can outlast his five opponents at the end of the month, he'll become the only player in history to win the same WPT Main Event twice – a record he's desperate to attain.
"It's my favorite event. I still get goosebumps every time I come to the Hard Rock, it has a special feeling every single time I walk in."
The final, of course, won't be at the Hard Rock, but at the HyperX Esports Arena in Las Vegas, Nevada at the Luxor Hotel & Casino instead. Afriat has mixed feelings about the switch of venue.
"I would have loved to have finished it the next day, but in another way, I think it's exciting for new players who never made a final table to wait six weeks to go the new installation at the Luxor."
Afriat is clearly very proud of his 'second career' which has always been in the background of his life. He believes poker should be seen as a sport more than a gamble, due to the sheer amount of strategic development and focus that is required in the modern age to succeed.
"Today, [poker] is so different. it reminds me more of golf, they should proclaim poker as a sport."
Start your summer with 3⃣ @WPT final tables on PokerGO!
✅ #WPTShowdown – May 30
✅ #WPTChoctaw – May 31
✅ #WPTTOC – June 3
Subscribe now: https://t.co/5rUlItuiNK pic.twitter.com/Glc5VcY5Gi

— PokerGO (@PokerGO) May 13, 2019
THE PLAYER TO BEAT
Afriat is under no illusions as to his toughest opponent come May 30th – the chip leader.
"My biggest threat is James Carroll. I have a brick wall on my left; he never folds, he's aggressive, he's definitely the problem."
It's the wrong way round for Afriat's preference, with the two short stacks to his right and both James Carroll (124bb) and Maria Ho (111 bb) to his left.
"I don't like the draw! But it's going to be my sixth final table, which is pretty good."
Read about Maria Ho's journey to the final table in a feature article right here.
BEING CONQUERED BY CADA
Well used to final tables, Afriat finished fifth in a very well-remembered WSOP event last summer. Joe Cada would take down 'The Closer', but with five players left, Afriat led the remaining players…only to finish fifth himself. To him, there's a clear reason.
"It was a turbo and everyone was shoving and making chips beside me. It was crazy. I got eliminated and the tournament finished 50 minutes later."
While he rues that dramatic finish, Afriat credits Cada with a superb performance in his natural home.
"Cada is a phenom, he was looking at me and he just knew he was going to win the tournament. I said 'You're going have to go through me first!' and… he did! Some places you're lucky and that's his lucky place. I don't even know if he ever cashed on the World Poker Tour, but the World Series venue? It's magic for him."
THE TOURNAMENT OF CHAMPIONS
Afriat will program his mind that he's at the Seminole at the end of May. He's going to pretend he's playing at the Hard Rock and prove himself all over again before he takes on the season-ending Tournament of Champions.
"I love the Tournament of Champions; the venue, the way they organize it, the parties, the gifts they give us, the prize-pool, they really cater to us that special week."
Will Afriat claim a third WPT title and second Seminole success. Rule nothing out, because the man who has a feel for the right play will do everything in his power to go for the win.
With six players remaining, here's how they line up…
WPT Seminole Hard Rock Poker Showdown Final Table
Seat 1. Maria Ho – 16,650,000 (111 bb)
Seat 2. Chad Eveslage – 3,350,000 (22 bb)
Seat 3. Jerry Wong – 3,225,000 (22 bb)
Seat 4. Eric Afriat – 4,425,000 (30 bb)
Seat 5. Ami Alibay – 8,175,000 (55 bb)
Seat 6. James Carroll – 18,525,000 (124 bb)
…and this is what they're going to win.
WPT Seminole Hard Rock Poker Showdown Final Table Payouts
1st: $715,175*
2nd: $465,120
3rd: $344,960
4th: $257,815
5th: $194,610
6th: $148,380
The televised WPT Final Table will begin at 4 p.m. on Thursday, May 30 at HyperX Esports Arena in Las Vegas, Nevada at the Luxor Hotel & Casino. You can subscribe now to PokerGO to book the best seat in the house and watch all the action live!
* First-prize amount includes the winner's $15,000 buy-in into the season-ending Baccarat Crystal WPT Tournament of Champions.