The longest ongoing chapter in poker history, Texas Dolly at the World Series of Poker, has come to an end.
A soft thud sounded, as with a single knuckle tap on the green felt of the main stage in the Amazon Room, Doyle Brunson signaled defeat one last time.
After the final showdown had unfolded, his raspy voice with distinguishable Texas drawl filled the quiet room.
"Good job."
The recipient of those words, James Alexander, will forever be known as the final opponent of Texas Dolly after 49 years at the World Series of Poker.
As the applause swelled up, Brunson swiftly mucked his final hand, before raising his arm with a slight tremor, reaching for his iconic cowboy hat in salute of fans both in the stands and watching from home.
Born on August 10, 1933, in Longworth, Texas, the All-State basketball player and track star nearly signed with the then Minneapolis Lakers before a knee injury changed the path of his life. During a brief stint as a school principal, it was a game of Five-Card Draw that changed his life forever, and the chapter: Doyle Brunson the poker player, started.
More than 60 years ago, the Texas road gambler turned living poker legend, could've never foreseen tipping his cowboy hat to fans, fans of his play, his persona, his story and simply fans of the game that he introduced them to.
Whether you got to know him through his best-selling Super System, first was released in 1979, countless appearances in big televised cash games such as High Stakes Poker and Poker After Dark, his record at the World Series of Poker, or simply his status as one of the best and toughest players to have ever played the game, Brunson could've never seen any of it coming.
In between signing autographs and posing for pictures with fans understanding the gravity of the moment before the play got underway on his final day, Brunson reflected back on what has been a journey unlike anyone has been on that's still with us today.
"I'm a poker player, and just to think that people acknowledge poker players is very rewarding to me. They used to look down on us as second-class citizens, and now we have a certain celebrity status that we probably don't deserve. It's nice to see how far the game of poker has come."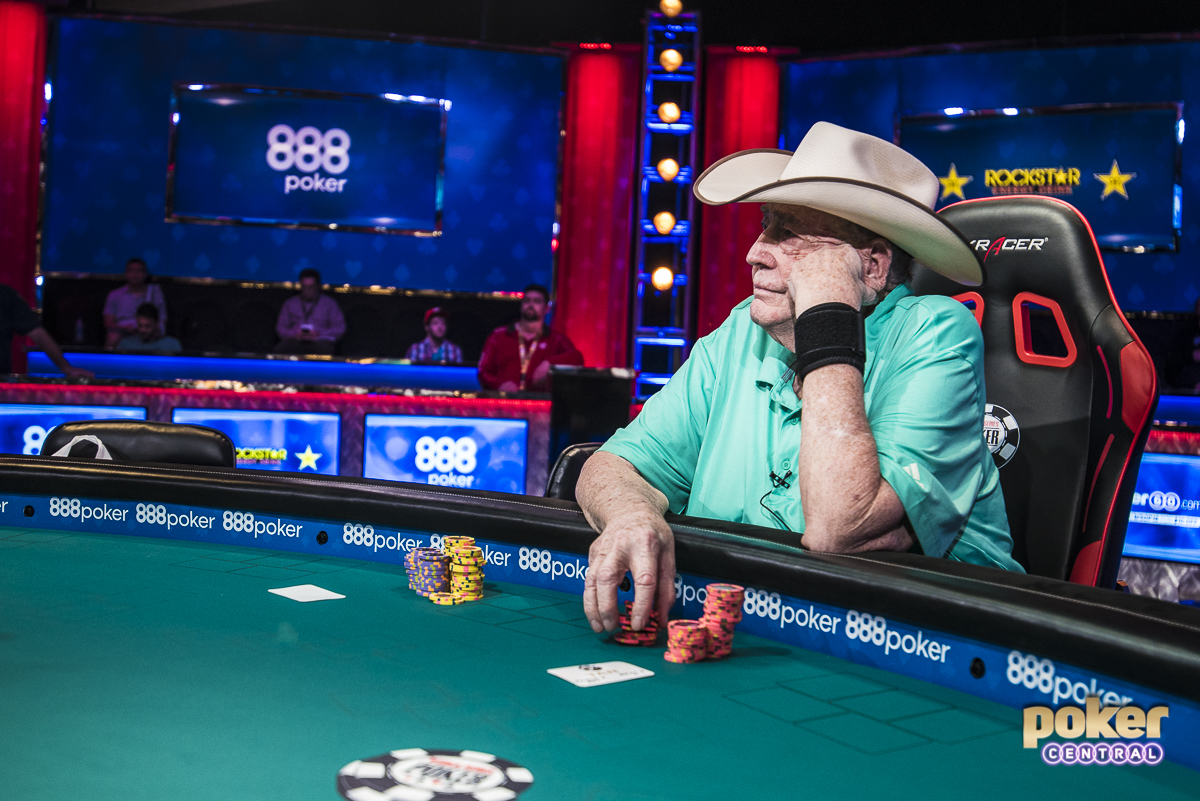 The game of poker has certainly come a long way from dimly lit, smoky card rooms, and underground games ran by infamous mobsters, and when getting a gun pulled on you was part of the sweat of getting home with that night's profits.
Phil Ivey, considered by many as the best all-around player of the last 20 years, spoke on exactly that, and how much Doyle has done for the game and how it's players are being perceived.
"Back when he [Doyle] was coming up, if you told someone you were a poker player, you might as well have been telling them that you were a drug dealer. Even with myself, in my limited experience before being on TV, when I told people that I played poker for a living, they would look at you a little differently. Everyone in poker owes Doyle a huge 'Thank you' for all that he's done for the game."
Within hours, Sports Center with Scott Van Pelt on ESPN gave the ultimate 'Thank You' to the man that helped lay the foundation and built upon it, turning poker into a global pastime. Van Pelt perfectly summarized how much the times have changed, how the name Doyle Brunson reaches far beyond card rooms, into the living rooms of millions of Americans, resonating with anyone that loves the thrill and excitement of playing a game of cards.
"Known as a gambling pioneer, paving the way for the poker boom in the Early 2000s, to the man they call Texas Dolly, no bad beats and only good health to he and his wife. I'm not a poker guy, but everyone knows that guy," Van Pelt said as the clip was shown of Brunson's elimination from the $10,000 No Limit 2-7 Single Draw Lowball event.
As the clip ended, and the standing ovation by his opponents and fans slowly weakened, Brunson said, "Good luck everybody."
Phil Galfond, who once tried impressing Doyle on High Stakes Poker by check-raising Daniel Negreanu for $94,000 on the turn with ten-deuce offsuit, delivered heartfelt commentary on the PokerGO stream as the 'Godfather of Poker' headed for the exit one last time.
"The audience reacts the way that we all feel."
Lead commentator and the voice of Poker After Dark, Ali Nejad, added, "Appreciation and respect for the author, father, husband, legend, in the twilight of his poker career, riding off into the sunset."
"Let him rebuy" – a person in the crowd yelled.
Galfond added, "It's tough to imagine the poker community without him as an active participant."
As he steered his scooter through the crowd, poker fans, usually eager to stop him for a photo or autograph, kept their distance. A few of his peers put their hands together in the $10,000 H.O.R.S.E. Championship being played just a few feet away from where Brunson was dealt his final cards.
Passing through the doorways of the Amazon room, Doyle left the room behind him filled with the banners of Blumstein, Nguyen, McKeehen, Jacobson, Riess, Merson, Heinz, Duhamel, Cada, Eastgate, Yang, Gold, Hachem, Raymer and Moneymaker.
Without Brunson, there is no Moneymaker and all those that came after him.
As Jack Effel, escorted Brunson through the hallways, fans quietly snapped photos of the cowboy hat fading into the distance.
"Good game, Doyle," – a fan said.
Doyle gave a friendly nod.
"Thanks for everything, Doyle," – another added a few steps further down the hallway.
Doyle nodded again.
Head nods, and other signs of respect and admiration followed each other up rapidly, as word spread of Brunson's departure from the Rio.
Passing under a banner reading, "Thank You For Playing in the World Series of Poker," Brunson turned his scooter into the orange colored Las Vegas night skies, homebound one final time to his beloved Louise.