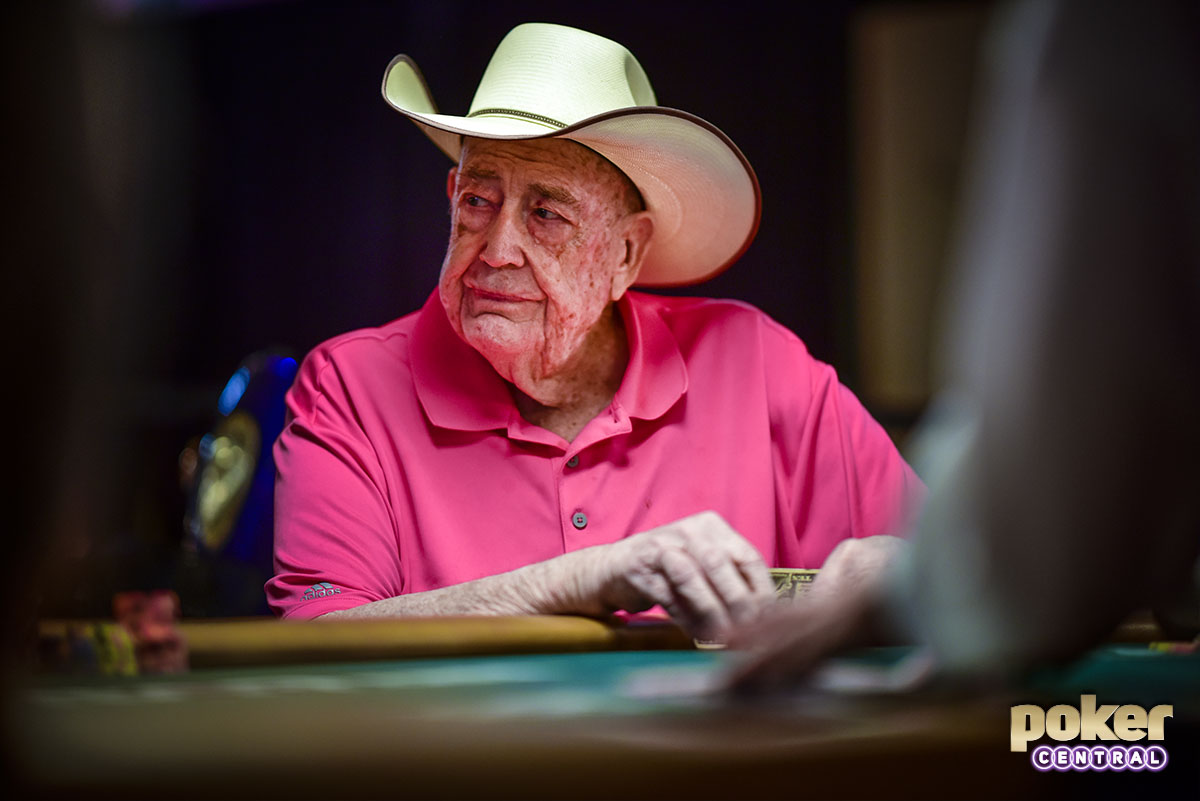 Doyle Brunson poker blow-ups may have been few and far between, but for many, Brunson and poker go together like gunpowder and the bullet, and Texas Dolly's life is the game has been no less explosive. He's seen two men drop down dead while sharing the felt with them (one suffered a suspected cardiac arrest, the other was shot down over a marital dispute). And while Brunson the poker player was popular, when Doyle Brunson Super System was released, he gained a whole new legion of fans.
Many names are associated with poker in the living rooms of households up and down the country. To the younger generation, heroes like Fedor Holz or Bryn Kenney are the hottest names in the game. To a generation older, Daniel Negreanu, Phil Ivey, Phil Hellmuth or Tom Dwan conjure images of their favorite poker player.
Only one man is associated with poker by his silhouette, and that is Doyle 'Texas Dolly' Brunson.
THE ORIGINAL COWBOY GAMBLER
The original cowboy who played poker is, just as 'unknown soldier' is to those who remember the sacrifices on the battlefield, the pioneer of the future for whom we have no name. With stars of the game such as Amarillo Slim, Stu Ungar and Jack Strauss all sadly no longer with us, it's right that every year we celebrate 'Doyle Brunson Day'!
It's Doyle Brunson Day, so we're celebrating @TexDolly's favorite hand with this instant classic featuring @MagicAntonio and @phil_hellmuth! #SHRCelebrityShootout https://t.co/9wXJFDkzPP pic.twitter.com/XGBpCtt6ed

— PokerGO (@PokerGO) October 2, 2018
AN END TO TOURNAMENT POKER
While Doyle hasn't played tournament poker for some time, his last WSOP appearance in a 2-7 Lowball event attracted plenty of attention, especially when the Godfather of Poker announced his retirement. The announcement caused an outpouring of love and respect from the poker community, not least from 10-time WSOP winner, Phil Ivey.
Poker Legends: Phil Ivey Speaks on Doyle Brunson's Retirement
Incredibly, 'Texas Dolly' nearly won the thing and was full of enthusiasm heading into his final day.
Going to the Rio to play in 2-7 lowball tournament. Probably the last one I'll ever play.

— Doyle Brunson (@TexDolly) June 11, 2018
Alas, it was not to be, and Doyle's final showdown was one for the record books purely due to his attendance rather for him collecting an 11th WSOP bracelet.
THE CASH GAME CRUSHER
While tournament poker may not be for him anymore, Brunson continues to crush cash games like never before, and regularly scooping the biggest pot of the night in Las Vegas, Doyle decided he fancied doing it in 'Dolly's Game on PokerGO.
The biggest pot of the night goes to @TexDolly! 🤠
Doyle Brunson, mixed games, and #DollysGame continues LIVE on PokerGO!
Watch: https://t.co/kuWuh9PmjJ
Subscribe: https://t.co/5rUlItuiNK pic.twitter.com/7LW27UUlQo

— PokerGO (@PokerGO) January 9, 2019
A PART OF POKER HISTORY
Doyle Brunson's part in poker history is a legend in itself, of course, but the big man played a huge part in there even being a World Series of Poker at all thanks to his relationship with Benny Binion.
Since he first picked up his first hole-cards and those twinkling eyes looked out from underneath from his cowboy hat, he was comfortable playing the biggest games, whether under the brightest spotlight or playing Poker After Dark.
As a young man, Doyle Brunson could have been shooting hoops for a career, but his basketball dreams were dashed when he suffered an injury that pushed him towards poker.
As we enjoy the ongoing legacy of Texas Dolly's lifetime in poker, the NBA's loss is certainly poker's gain.
Want to take a look at classic Doyle Brunson poker action? Sign up to PokerGO today and your subscription will give you 24/7 access to live-streamed tournaments, cash games and access to cutting edge documentaries.