The day we all hoped would never come is here. Doyle Brunson is playing the final day of his poker career at the World Series, a journey that started on the very first day events were organized a Binion's Horseshoe on Fremont Street in 1970.
For the last time, poker fans from all over the world can see the 'Godfather of Poker' live in action, as the PokerGO stream starts at 6 pm ET. Doyle takes center stage with his son Todd on the feature table, as 11 players are left to battle for the $10,000 No Limit 2-7 Single Draw Championship bracelet.
Going to the Rio to play in 2-7 lowball tournament. Probably the last one I'll ever play.

— Doyle Brunson (@TexDolly) June 11, 2018
A simple Tweet had the poker world buzzing, as Brunson announced his retirement yesterday in a simple Tweet. We spoke to Doyle after this Tweet went out, and you can click this link to read the full story. The likes of Phil Ivey, Paul Volpe, and Brian Rast also shared sentiments on the Poker Hall of Famer's retirement as the night went on before Brunson bagged up the fifth biggest stack.
Before the action got underway on the final day, we spoke to Brunson about announcing his retirement and he reiterated yesterday's sentiments.
It's Time for Family Time
"I didn't want to make an official announcement, I just Tweeted it, and everyone picked it up. I'm going to quit after this World Series, I'm 85 years old, and I'd like to spend the last few years that together with my wife. She's in bad health, and I want to be there for her."
About yesterday's action and the chance of potentially closing out an unmatched career on the felt that spanned more than six decades with his eleventh bracelet, Brunson kept things casual.
"It was just a lot of fun yesterday, but it's still just a poker game. It's nothing magical to me, and everyone here wants to win, they are all good players, and whatever happens, happens."
"Winning my 11th bracelet would mean the same to me as it does to the other 10 guys. Everybody here wants to win the bracelet."
The Game has Come a Long Way
Reflecting on the outpouring of support on social media after yesterday's announcement, and the flurry of fans on the rail asking for pictures and autographs, Brunson once again showed that the game for him is about playing, and getting both the game and its players the respect they deserve.
"I'm a poker player, and just to think that people acknowledge poker players is very rewarding to me. They used to look down on us as second-class citizens, and now we have a certain celebrity status that we probably don't deserve. It's nice to see how far the game of poker has come."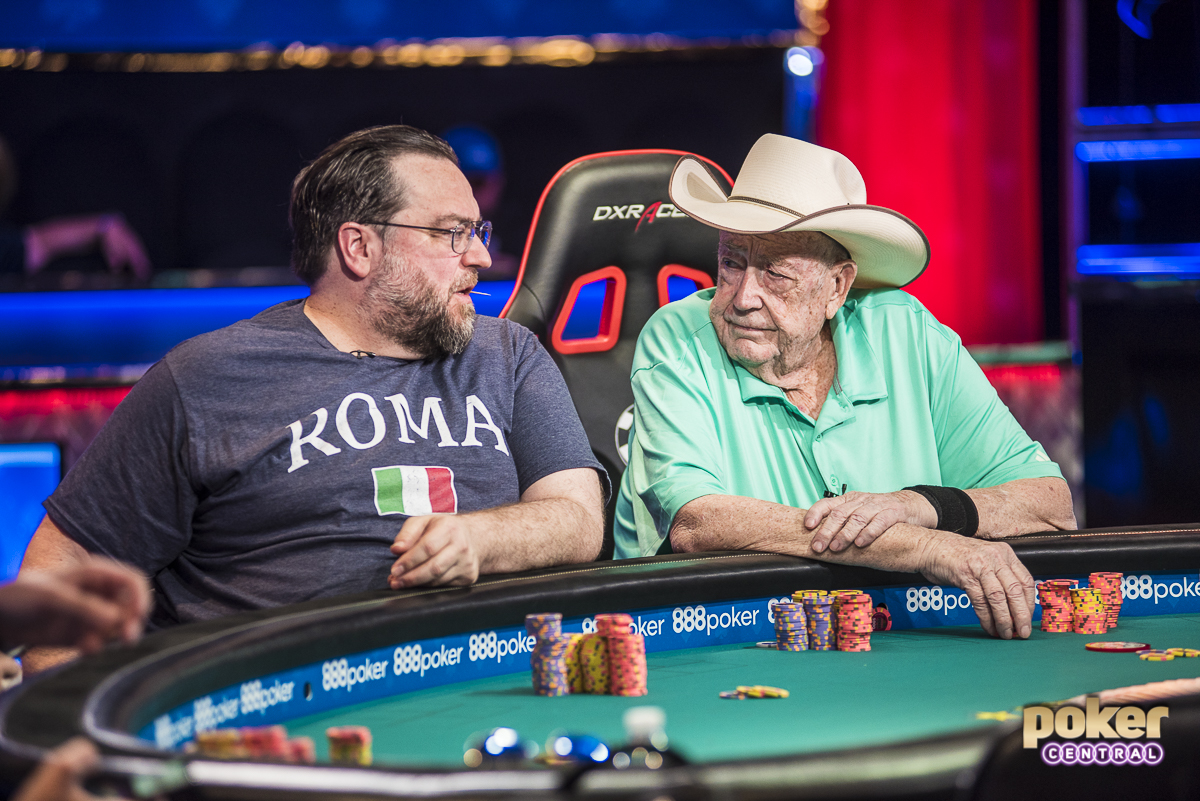 On his final day at the World Series of Poker, a brand he helped turn into a worldwide phenomenon, Doyle will be playing against his son Todd and seated on his direct left. Doyle played down the special feelings that many fans feel while seeing them play, saying that to him it's just like any other father-son relationship.
"At the end of the day, I pull for him and I'm sure he's pulling for me."
While Todd and Doyle might get tangled up in some big pots today, we're certain the entire poker world is pulling for Doyle to pull off one last victory and ride off into the sunset with the crowning achievement of winning his eleventh bracelet.
Starting at 6:00 pm ET, watch Doyle Brunson live on PokerGO. If you're new to PokerGO, subscribe right now. Follow Poker Central on Twitter for all the latest on the 2018 World Series of Poker.