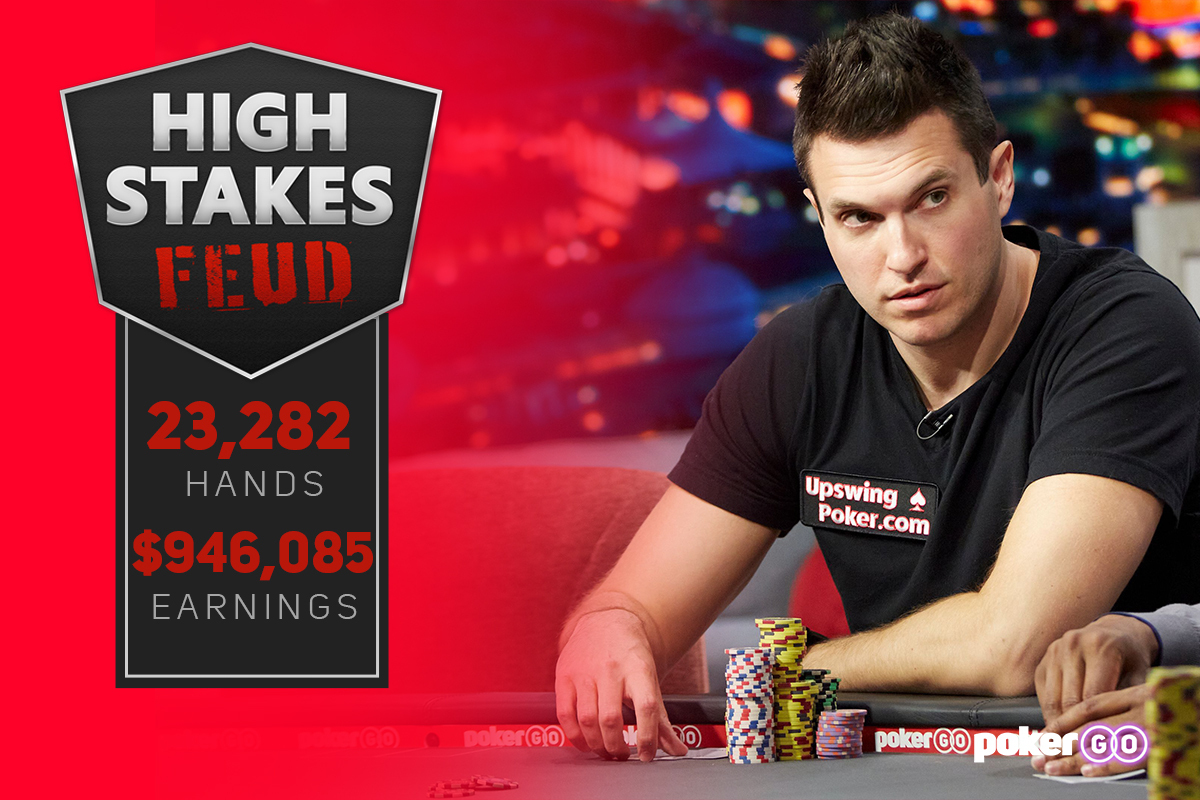 High Stakes Feud between Doug Polk and Daniel Negreanu is coming to a conclusion after the two played several marathon sessions this past week to be within striking distance of the 25,000-hand quota.
Following three winning sessions from Polk, he now holds a lead of $946,085.32 over Negreanu after 23,282 hands – and with just 1,718 hands remaining in High Stakes Feud – there is a strong likelihood that the match could wrap up this week.
Disclaimer: Statistics for High Stakes Feud are taken directly from either player's social media posts, or from Upswing Poker.
Last Monday would be the 32nd session of High Stakes Feud, and it would be the shortest session dating back to just December 28. Polk pushed out to an early lead and implemented a new strategy of limping on the button. Roughly midway through the session, Negreanu five-bet shoved holding pocket threes and Polk called with ace-king. The flop brought both a three and an ace, and Negreanu secured the double to hold a lead of roughly a buy-in as the session wrapped up after 438 hands with Negreanu pocketing $46,854.50 in profit.
The next session between Polk and Negreanu would be one of the most interesting ones of High Stakes Feud. In response to Polk's limping strategy executed in the previous session, Negreanu began using the full extension of his time bank which frustrated Polk. Polk would respond by sitting out as Phil Galfond was called in to arbitrate the situation before play eventually resumed with Polk holding an advantage of nearly a buy-in. As the session was winding down, Negreanu would lose two key hands that sent him spiraling into the negative. Firstly he found himself all-in with pocket sevens on the turn, but ran into the pocket jacks of Polk, before he bluffed the river with a busted straight and flush draw as Polk looked him up with trips as the session ended after 560 hands with Polk winning $136,239.17.
Completely pathetic showing from @RealKidPoker today

Tanking 20 seconds to open, tanking 20 seconds to check flop, tanking every single decision in an effort to slow the game down to nothing.

Total piece of shit move.

— Doug Polk (@DougPolkVids) January 27, 2021
Friday would be the biggest session to-date of High Stakes Feud as Polk and Negreanu sat down and battled for nearly 1,400 hands. In the early going, each player held a stack of over three buy-ins on each opposing table before Polk swung the advantage his way when he doubled with aces against the ace-high bluff of Negreanu. Polk's lead of two buy-ins then increased to a lead of over $140,000, and eventually crept up to $200,000 before Negreanu staged a late fight back. Negreanu took down a sizeable pot when he value-bet top on the river, before going runner-runner to make a flush to crack Polk's pocket kings. Negreanu continued to drag pots to eventually take the slight lead, but as the session was about to wrap up, Polk scooped a nearly three buy-in pot with two-pair over two-pair as the session ended after 1,384 hands with Polk winning $34,855.96.
With the conclusion of High Stakes Feud in reach, Polk and Negreanu played the biggest session on Monday as nearly 2,000 hands were dealt between the two over a near eight-hour match. The first major pot went Polk's way after he five-bet shoved with pocket queens and held against the ace-queen of Negreanu. Negreanu was then all-in with pocket nines, but ran into the pocket kings of Polk, and then ran two-pair into the trips of Polk to be down roughly four buy-ins. Negreanu quickly scooped some back with a double holding two-pair against a Polk bluff before giving it back when he called Polk's river all-in with pocket eights only to be shown the trips of Polk.
Down roughly two buy-ins, Negreanu called all-in on the river with a straight to double against Polk's two pair as the match returned to nearly even between the two before a massive cooler saw Polk flop a full house and Negreanu river an inferior full house to see the $150,000-pot head Polk's way after the money went in on the river. Negreanu slowly crawled his way back to even as the 1,000-hand point was reached before Polk put his foot down on the gas and began motoring his way all the way up to being over $200,000 in profit as he joined the stream for commentary. Again, Polk's profit was reduced to nearly nothing before mounting one last comeback which included rivering a straight against Negreanu's top pair as the session ended after 1,976 hands with Polk pocketing $209,281.23 in profit.
Tuesday study session for the finale working with @DougPolkVids going over all the hands we played and sharing war stories.

Weird. 😂

— Daniel Negreanu (@RealKidPoker) February 2, 2021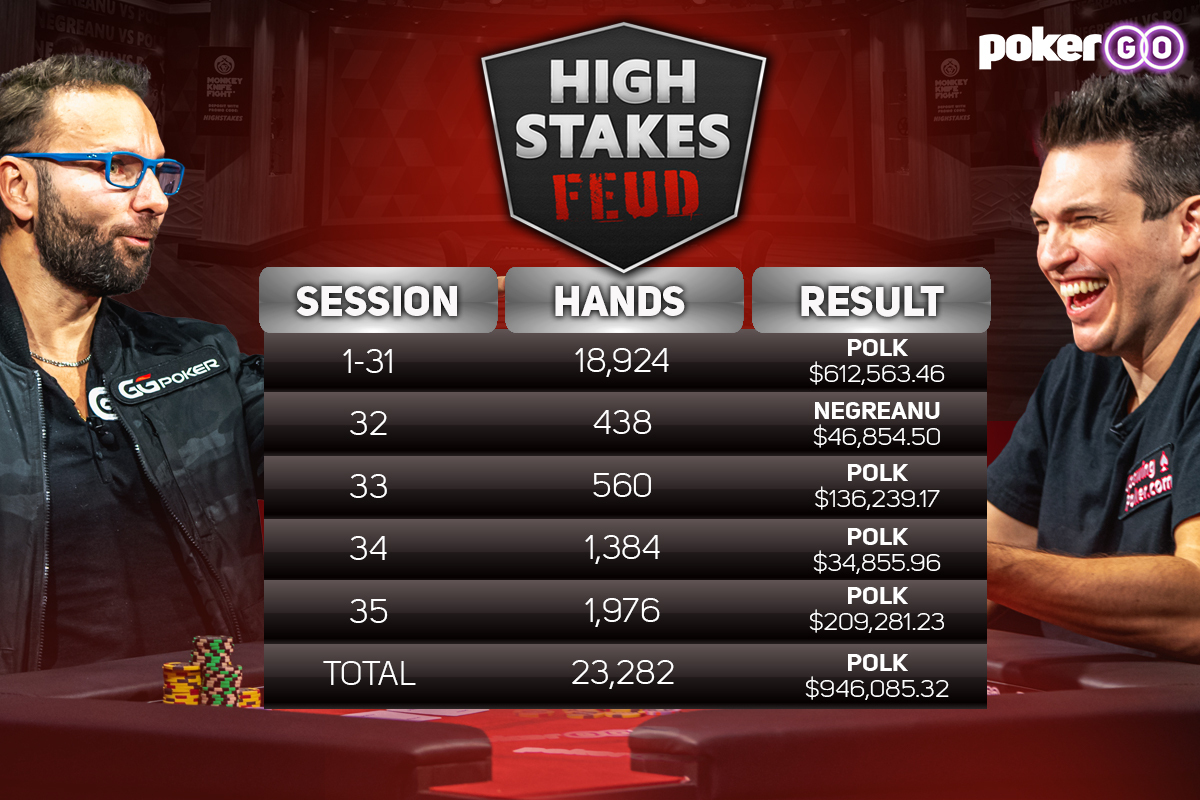 With 35 sessions now complete, 23,282 hands have been dealt of the 25,000-hand quota in High Stakes Feud. Polk holds a lead of $946,085.32 over Negreanu as Poker Central will continue to provide weekly updates of all the High Stakes Feud action until a winner is crowned.
Disclaimer: Statistics for High Stakes Feud are taken directly from either player's social media posts, or from Upswing Poker.
Connect with PokerGO on Facebook, Twitter, and Instagram. Use code "HSP" for $20 off an annual PokerGO subscription now!