High Stakes Feud continued during the Christmas break with Doug Polk and Daniel Negreanu playing three sessions to reach the halfway point of 12,500 hands. With three sessions logged before the year concludes, Negreanu managed to win two sessions and reduce his deficit as Polk closes out 2020 with a lead of $770,254.08.
After beginning in the PokerGO Studio back in early November, High Stakes Feud has now progressed to the halfway point with 12,500 hands being played between Polk and Negreanu following a total of 22 sessions. Polk has been dominant throughout High Stakes Feud winning the majority of the sessions and logging the biggest wins as he reached as high as $954k in profit before settling down to just over $770k.
Disclaimer: Statistics for High Stakes Feud are taken directly from either player's social media posts, or from Upswing Poker.
After a slow start to the 20th session of High Stakes Feud, it would be Negreanu moving ahead in a four-bet pot when he was all-in on the flop with a pair and straight draw to Polk's gutshot. Negreanu spiked the straight on the turn and moved ahead a buy-in before Polk managed to claw his way back to even and then out into the lead. Soon after, Polk shoved all-in for roughly the size of the pot on the river with pocket fours, and Negreanu picked him off with second pair to edge back ahead.
Polk then found a double with a turned flush against a rivered wheel for Negreanu. Negreanu continued his run of making wheels as he scooped two big pots to further his lead to nearly three buy-ins before the session ended after 534 hands with Negreanu booking a win of $117,962.28.
The second-longest session of High Stakes Feud would occur on Wednesday and it would be Polk wrestling back what he lost in the previous session. However, once action was underway, it was Negreanu taking the early lead before Polk found a double when he turned broadway, and then found pocket aces to move out into the lead of roughly a buy-in. Negreanu would find revenge with his own ace-king after calling all-in preflop against Polk's four-bet shove with pocket queens. Negreanu turned a flush to double and the match was back to even.
Polk would go on a mini-rush where he was all-in preflop and the river at the same time on both tables, before he would be all-in the next hand with pocket jacks against Negreanu's pocket threes. Polk flopped top set to double through and move into the lead of roughly two buy-ins. Negreanu was forced to rebuy on that same table a few hands later when he ran into the pocket queens of Polk as his lead eventually grew to nearly four buy-ins before it ended after 904 hands with Polk winning $118,253.88.
The final session of the year would be a short one as the two wanted to reach the halfway point of High Stakes Feud. Polk moved into an early lead and continued to slowly add to it as the session was coming to a close and he was sitting at roughly a three buy-in advantage. Polk however then ran several bluffs to put Negreanu on a huge late-session rush. Negreanu turned a straight and doubled against Polk's eight-high, before Negreanu picked off Polk's ten-high river-shove with two pair as the session ended after 279 hands with Negreanu winning $40,214.10.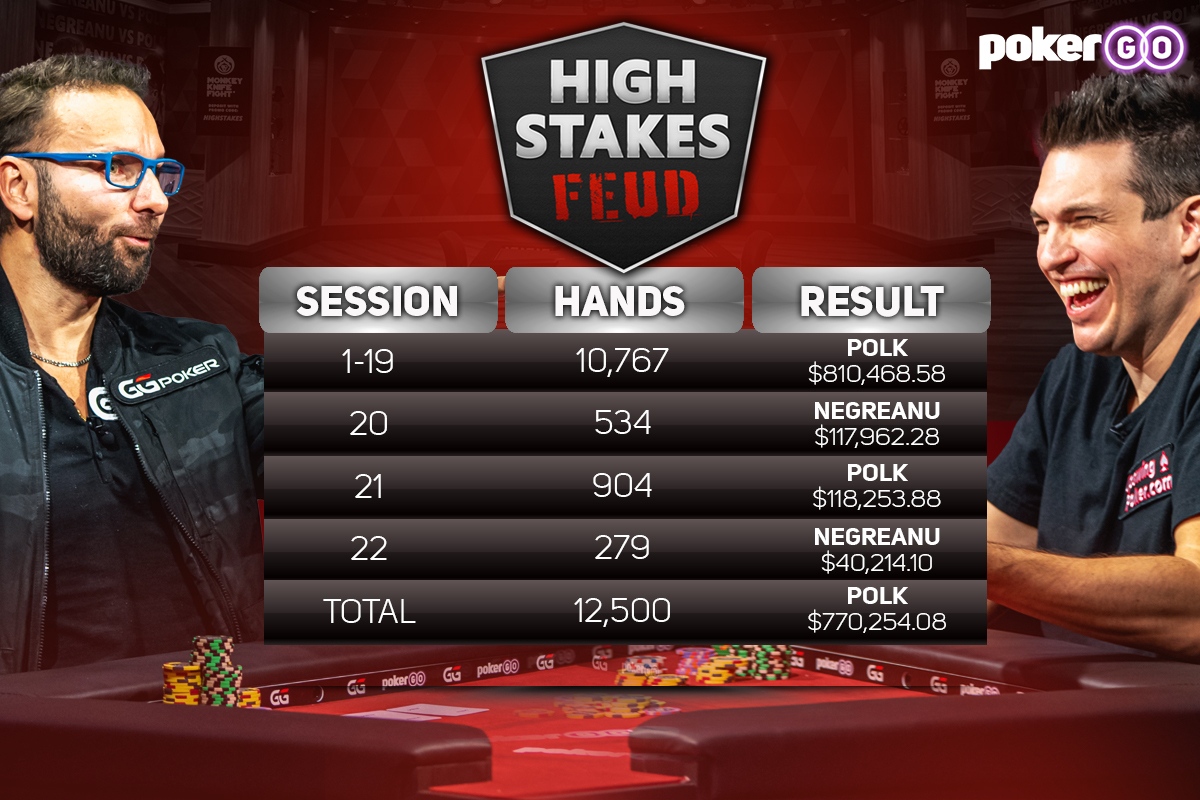 With 22 sessions now complete, 12,500 hands have been dealt of the 25,000-hand quota in High Stakes Feud. Polk holds a lead of $770,254.08 over Negreanu as Poker Central will continue to provide weekly updates of all the High Stakes Feud action until a winner is crowned.
Disclaimer: Statistics for High Stakes Feud are taken directly from either player's social media posts, or from Upswing Poker.
Connect with PokerGO on Facebook, Twitter, and Instagram. Use code "HSP" for $20 off an annual PokerGO subscription now!