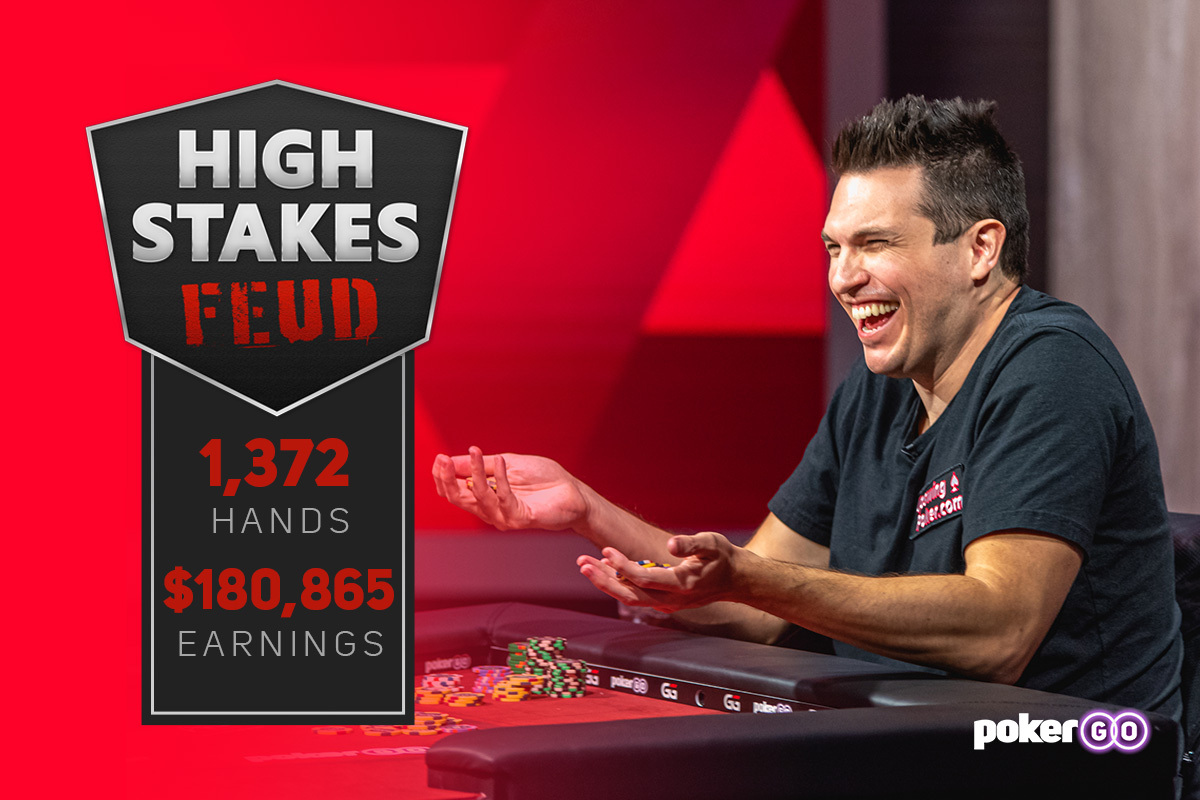 High Stakes Feud between Daniel Negreanu and Doug Polk began just over a week ago with the two playing out 200 hands from inside the PokerGO Studio at ARIA Resort & Casino.
Negreanu took the lead in the match by winning $116,500 last Wednesday, but with High Stakes Feud moving online to WSOP.com, the two have added three more sessions. Polk managed to win big on the first two sessions that played out on Friday and Sunday, while Negreanu took a win yesterday to see the current tally sit at $180,865.59 in favor of Polk following 1,372 hands.
The action is now online with Negreanu and Polk playing $200/$400 No-Limit Hold'em across two tables with both players having a team stream the action. Once the virtual cards were in the air for the first time on Friday, it would be Negreanu continuing his winning ways early before the first major clash saw Polk hold after flopping two pair against Negreanu's flush draw. Midway through the session following a series of preflop raises, Negreanu five-bet shoved his ace-queen and Polk called with pocket queens and held.
As the first online session came to a close, Negreanu took one more hit as his flopped straight draw went runner-runner full house and called all-in on the river but was shown the superior full house by Polk and his pocket aces. Following 424 hands, Polk pocketed $218,292.78 in profit to now hold a $101,792.78 lead after 624 hands.
The second online session took place this Monday and Negreanu again was off to a good start when he caught Polk semi-bluffing the river with a pair and straight draw against Negreanu's two pair. Polk managed to slowly fight his back to even, and then into the lead, before pushing out ahead as the session closed out. Both players checked the river with Polk's superior king-high edging out Negreanu's inferior king-high. On the other table, Polk picked off a Negreanu bluff with a busted straight draw, and when the session ended, Polk won $166,239.03 after 382 hands. With three sessions now complete, Polk would hold a $268,031.81 lead after 1,006 hands.
Doug took the early lead in the third session on the back of a river shove before edging out his advantage to over two buy-ins around the halfway mark of the session. Negreanu would cut into the hefty lead when Polk five-bet all-in with pocket jacks and Negreanu called with pocket kings. The kings held, and Negreanu scooped the $95,000 pot before the match continued as both players sat at about breakeven for the session before Polk river-bluffed with queen-high and Negreanu called with aces-full to move into a lead of nearly two buy-ins. Polk then lost two further sizeable pots when he check-called all-in on the river with ace-high to run into Negreanu's pocket kings while simultaneously on the other table being rivered by Negreanu's top pair. As the session was coming to a close, Polk found some life when he was all-in on the flop with pocket tens against Negreanu's pocket jacks. The turn and river went runner-runner hearts to give Polk a flush as the session immediately ended with Negreanu winning $87,166.59 from the 366-hand session.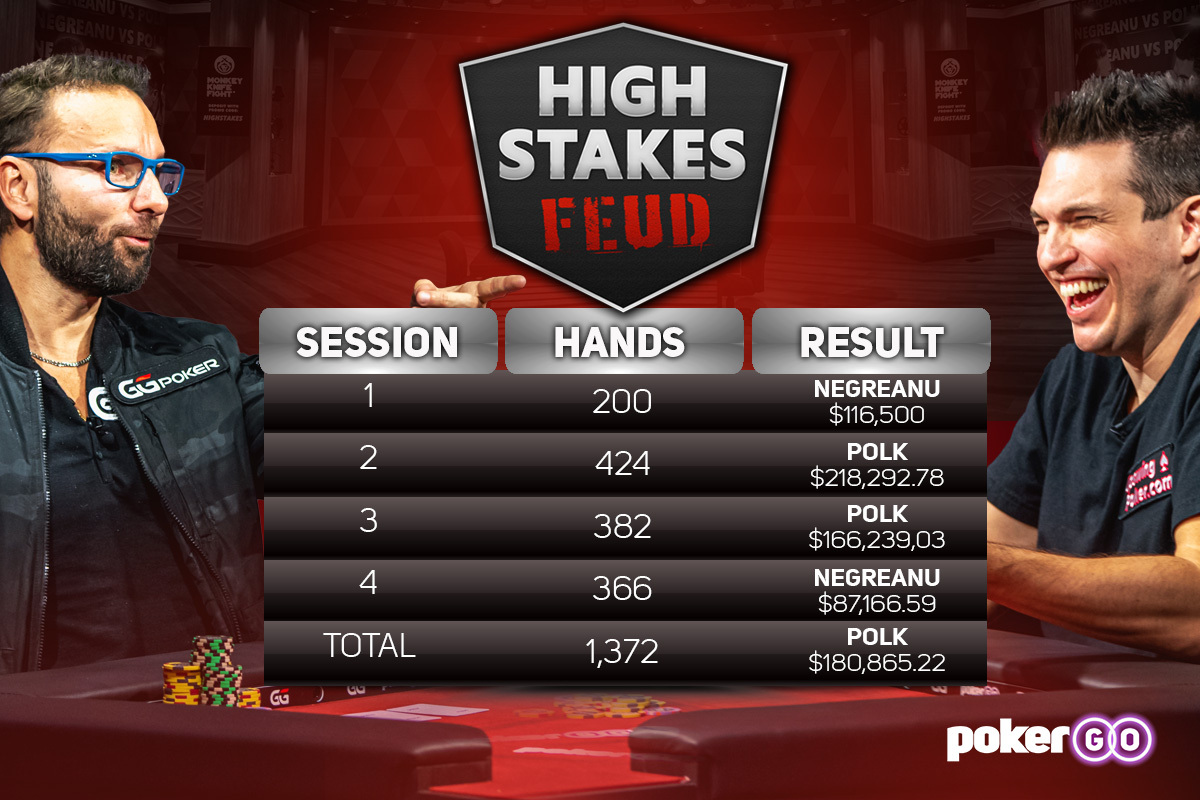 With four sessions now complete, 1,372 hands have been dealt of the 25,000 quota in High Stakes Feud. Polk holds a lead of $180,865.22 over Negreanu with each player having won two sessions as action will continue multiple times a week throughout the remainder of the year. Poker Central will continue to provide weekly updates of all the High Stakes Feud action between Negreanu and Polk until a winner is crowned.
Connect with PokerGO on Facebook, Twitter, and Instagram. Use code "HSP2020" for $10 off a PokerGO subscription now!