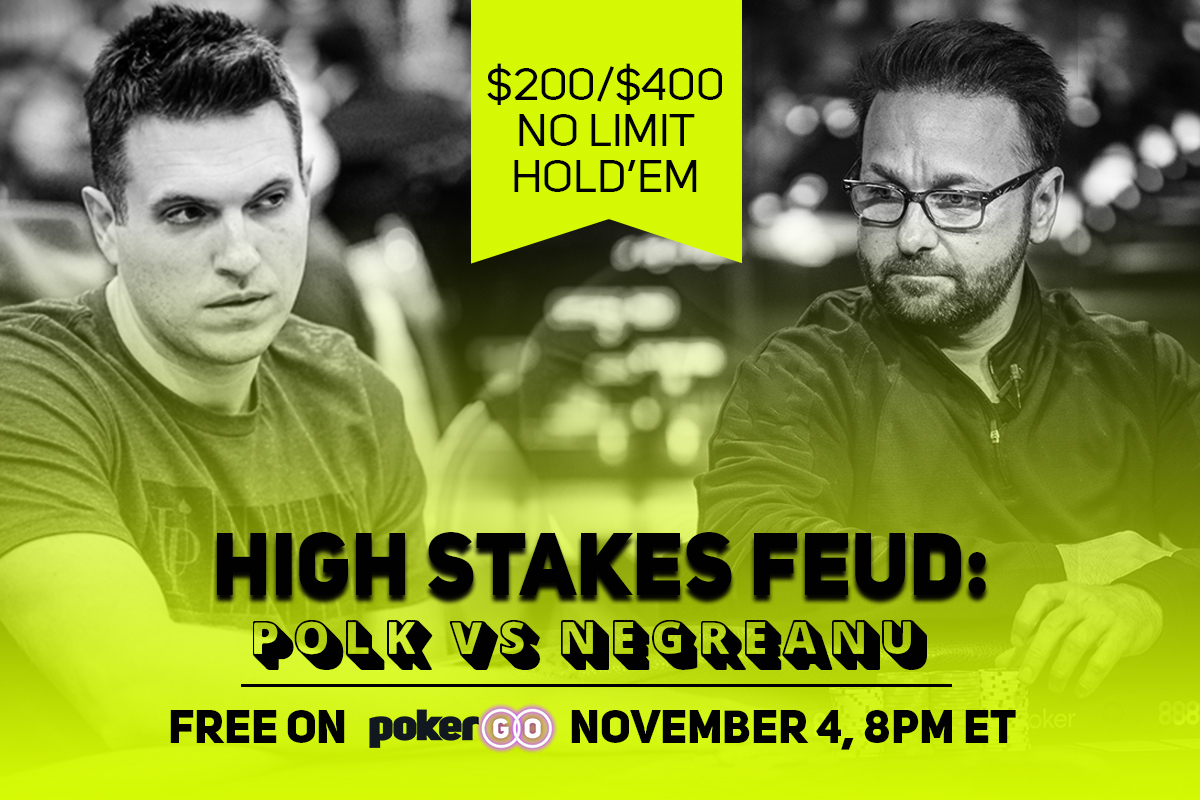 Today, PokerGO®, Poker Central's direct-to-consumer OTT subscription video service, announced their collaboration with GGPoker on "High Stakes Feud", a new cash game featuring a head-to-head battle between notable poker professionals and long-standing rivals, Daniel Negreanu and Doug Polk. The first episode of the "High Stakes Feud" will premiere live from the PokerGO® studio at the ARIA Resort and Casino on November 4th at 5pm PT for free on PokerGO®, and PokerGO®'s YouTube and Facebook channels.
"High Stakes Feud" will feature one-on-one play, a classic heads-up format, and $200/$400 stakes. Negreanu and Polk will be playing a grand total of 25,000 hands in this cash game series, the first 200 hands of the match will take place in the PokerGO® Studio on November 4th. "High Stakes Feud" will kick-off live on PokerGO® and will then shift online at WSOP.com, where Negreanu and Polk will face-off 3-5 times a week with the possibility of the match lasting multiple months.
"With Negreanu and Polk's perennial rivalry and constant conflicts on social media, 'High Stakes Feud' will be a match fans will not want to miss," said Mori Eskandani, Executive Producer at PokerGO®." The one-on-one match format between these notable poker professionals, along with the possibility of this game lasting multiple months makes the outcome of each day in this series a must-see."
"Bringing 'High Stakes Feud' to life has been a real honor, as millions of poker fans and players around the world have been awaiting this highly anticipated match between Negreanu and Polk," said Paul Burke, Senior Manager of Content at GGPoker. "With one of a kind match-ups and a total of 25,000 possible hands, each episode will be exhilarating to witness."
"High Stakes Feud" will entice poker fans and players alike, with its compelling and competitive match-up between notable poker stars Daniel Negreanu and Doug Polk, who have had a long-standing rivalry in the game. Negreanu has won six World Series of Poker bracelets and two World Poker Tour championship titles, while Polk has three WSOP titles and was long considered to be the best heads-up player in the world.
"High Stakes Feud" will be the latest original cash game series available exclusively on PokerGO®. From expert commentary on the game in "The Championship Run" and "2020 Hindsight", to behind-the-scenes interviews on "Hand Histories", "Stories from the Felt" and more, PokerGO®'s originals provide unmatched access to the world of poker. Looking for more heads-up action? Check out High Stakes Duel on PokerGO as Phil Hellmuth and Antonio Esfandiari square off in a $400,000 winner-take-all battle!
Connect with PokerGO on Facebook, Twitter, and Instagram. Use code "HSP2020" for $10 off a PokerGO subscription now!