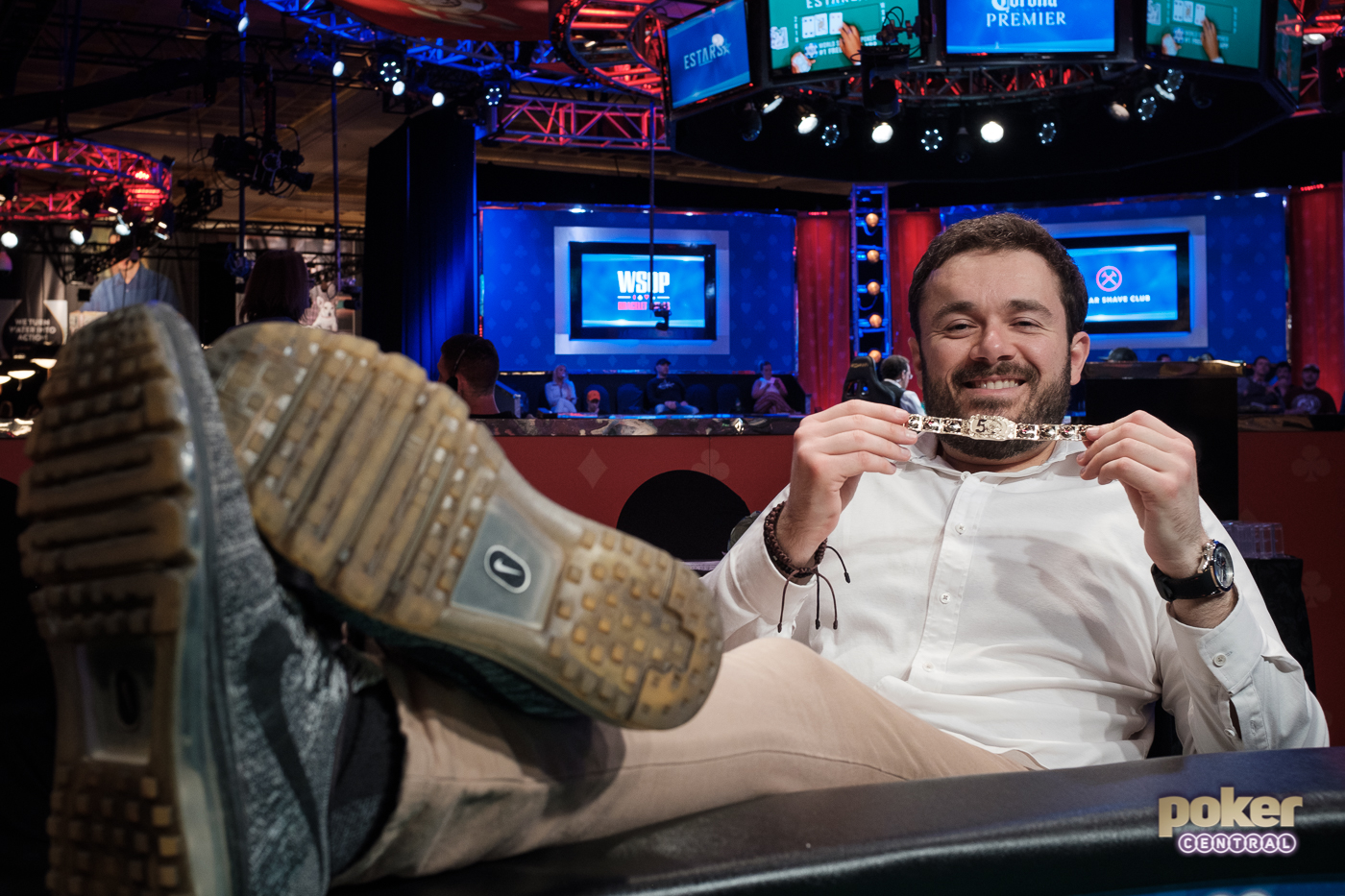 After a fantastic heads-up victory against Canada's Rodney Burt, Anthony Zinno became a two-time WSOP bracelet winner, this time in the $1,500-entry Pot-Limit Omaha Hi-Lo 8 or Better format. For the modern poker legend, the second time around is sweet, but also very different from his first bracelet victory.
"The first bracelet is the one that obviously is the life-changing one for any poker player," Zinno told us after the event, "There is no way to feel that same bliss that the first one brings, I was so overwhelmed with euphoria, but this one I am very proud of because I have been practicing specifically Omaha hi-lo for the past two years. It's pretty cool when you work really hard on one particular game that you love and then it works."
Zinno's focus certainly helped. Having played poker every day this summer, he didn't even have time to celebrate his win, jumping straight into the $10,000 Pot-Limit Omaha Hi-Lo 8 or Better Championship. He had such a good feeling about this particular tournament that he came into the final with confidence he'd get the job done.
"I made very few mistakes and that's something I couldn't have said five years ago because I wouldn't have known what I was talking about. This is truly a culmination of work, I feel very proud overall."
Zinno's love of the format met with Rodney Burt's, who would finish second. Zinno was quick to credit his opponent.
"PLO-8 is a very intricate heads-up game because there is a lot of stack leveraging and you don't want to put in too much preflop, not really knowing where you are at and it's a lot of small ball. Rodney was a really nice guy and knew what he was doing. His game was on point, he clearly plays a lot of PLO8."
Although he reached third place in the recent $1,000 Tag Team Event, Zinno credits his partner with a lot of their success as a duo.
"That was mostly down to John Hinds. He's like a brother to me and one of the coolest guys."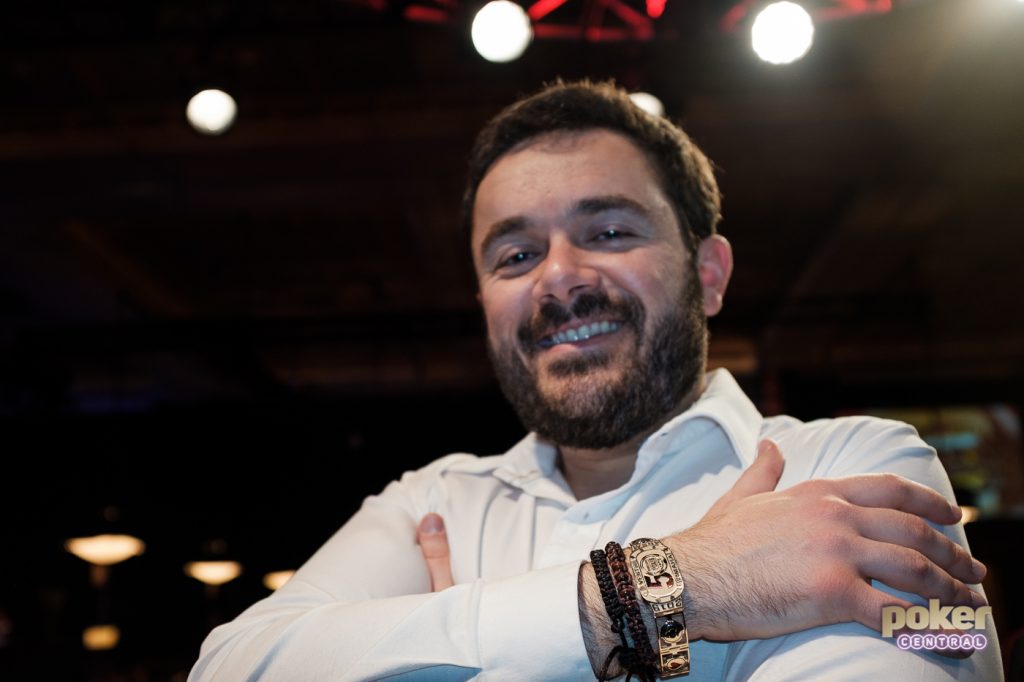 When it comes to himself, Zinno is after respect, but more for how he is seen in poker and in life rather than purely racking up accolades.
"I like when people tell me that they like playing with me or that I respect your work ethic or that you were really nice to my friend. That means more to me than anything else. There are plenty of very good poker players, players way better than me, but respect is always something I strive for and pride myself on. I treat every player the same whether if they don't know how many big blinds they have or if they are the best in the world. I want my legacy to be someone that welcomed people into the poker world and helped them gain respect for the game, more so than accolades."
Zinno credits some of his preparation with making a big difference. He recommends a few things that helped him get this far.
"Eight hours sleep [per night]. If you're not getting that, you're short-changing yourself. Get the best mattress and the best pillow you can find. Plus practice when you can. Even if I bust the tournament at 6 pm, I'll go home and hop online. I was playing O8 online and looking forward to these tournaments. So, relentless practice, but when you have tournaments coming up, the brain needs sleep. I've been eating better. [I have to say] thanks to All American Dave, he's the coolest. I have no partnership or affiliation with them, but that has helped me tremendously."
Zinno's focus was on trying his absolute best in every single spot. Beating Burt at PLO8 was very tough.
"PLO8 is a very interesting heads-up game. Rodney played really well, he was on point, he knew what he was doing and clearly played a lot of PLO8. The whole table was great, everyone was friendly and cool. In no limit you have to have that tough guy image, this table was more like having some fun.
Zinno's history with the game is well-known, but his love affair with gaming didn't start with poker. It'll probably end with the greatest card game on Earth, however.
"I used to love no limit hold'em, then fell in love with PLO in 2008. But I've been a gamer since I was six with Atari and Nintendo, Super Nintendo and PC gaming. I love gaming and think it's good for the brain. I think society underestimates how good it can be to learn; it's about logic being applied and you can take that into life. I have such a passion, I want to play poker my whole life."
If Zinno has one wish in his poker life, then it's not for his own personal success. It's for how poker is perceived across the globe.
"I want poker to be respected amongst everyone in the world, not just us. I want people to look at poker and say that's a game of skill, perseverance and hard work. When I die I'm not going to care if I have eight bracelets, I'm going to care if I made people's lives better."
Anthony Zinno's legacy is sure to include his latest WSOP success. Triumphing at a final table that included Erik Seidel, Connor Drinan and Jon Turner among other elite poker players, Zinno can only be included in that number from now.
Final Table Results:
| | | |
| --- | --- | --- |
| Place | Player | Prize |
| 1 | Anthony Zinno | $279,920 |
| 2 | Rodney Burt | $172,932 |
| 3 | Thomas Schropfer | $122,555 |
| 4 | Jon Turner | $87,967 |
| 5 | Scott Abrams | $63,961 |
| 6 | Jordan Spurlin | $47,118 |
| 7 | Connor Drinan | $35,173 |
| 8 | Kyle Miaso | $26,611 |
| 9 | Erik Seidel | $20,410 |
Who'll become the latest player to win a WSOP gold bracelet at the 2019 World Series of Poker? You can watch the action unfold live today on PokerGO and CBS All Access as more coverage of the 2019 WSOP bracelet events takes place. Selected bracelet events will be streamed exclusively on CBS All Access in the United States.