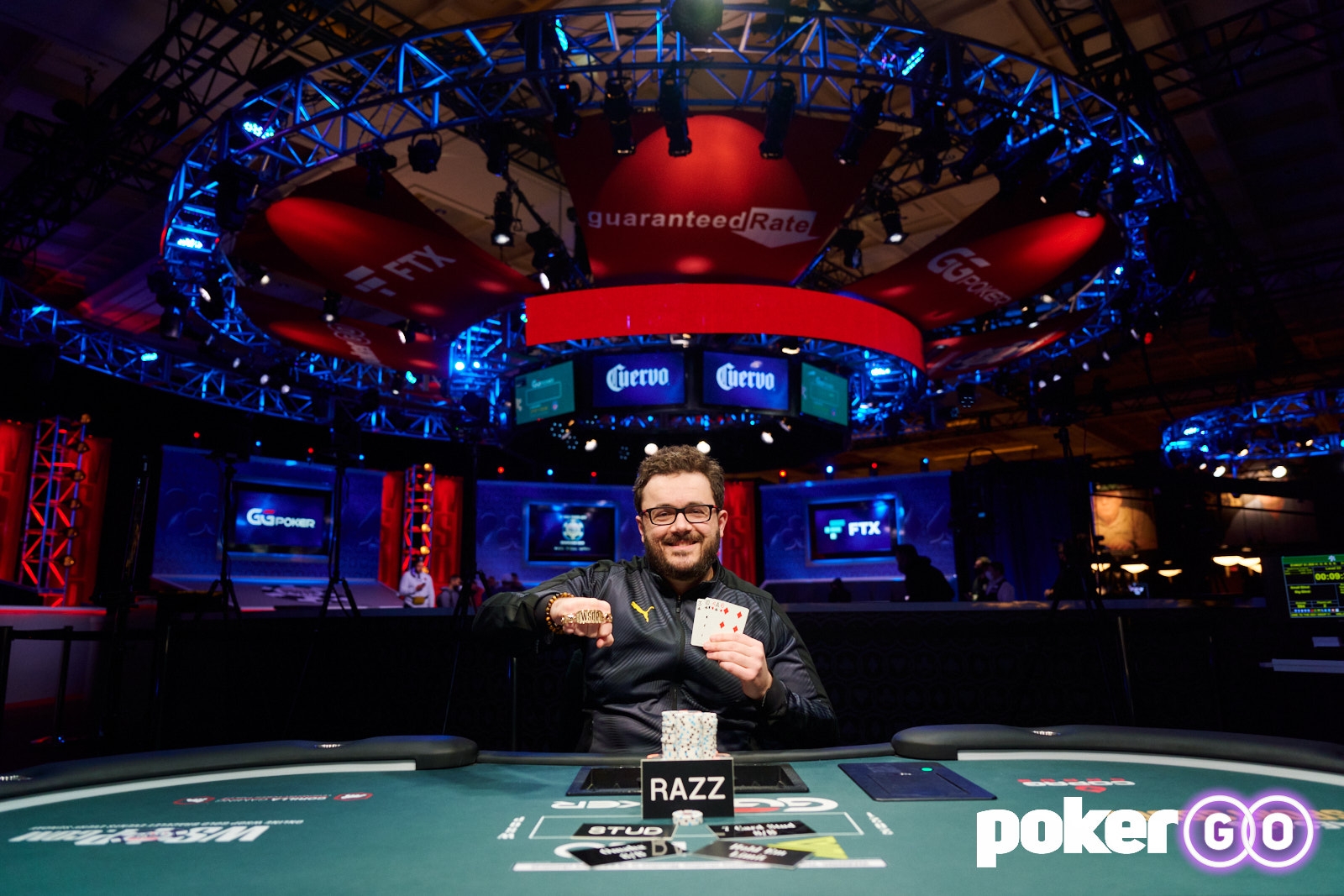 On Friday, October 15, at the 2021 World Series of Poker, Anthony Zinno became the 54th player in WSOP history to win multiple gold bracelets in a single year in Las Vegas when he won Event #27: $1,500 H.O.R.S.E. This achievement came just a few days after he won Event #19: $10,000 Seven-Card Stud Championship to become the only player in poker with three WSOP gold bracelets and three World Poker Tour titles.
"This is like a mathematical anomaly," Zinno said of winning two gold bracelets within a week's time. "Sometimes in life, we all just get a feeling. Whether the person believes that it's god, the universe, or some sort of divine intervention, how could you not feel that there's something there because it's a statistical anomaly? It's completely unexpected from every perspective based on all of the statistics and probability, so when it happens it feels like you just won the lottery despite the fact that I'm proud of my play and everything. I'm obviously well aware of how well you have to run to win a tournament, let alone win two within a week."
When Zinno won the $10,000 Seven-Card Stud Championship, he topped a field of 62 entries to win $182,872. In the $1,500 H.O.R.S.E., Zinno bested a field of 594 entries to take home a $160,636 first-place prize.
Event #27: $1,500 H.O.R.S.E. Final Table Results
Place
Name
Country
Prize
1st
Anthony Zinno
United States
$160,636
2nd
Randy Ohel
United States
$99,276
3rd
Christopher Adams
United States
$69,585
4th
Kao Chieng Saechao
United States
$49,597
5th
Darren Kennedy
Canada
$35,957
6th
Paul Holder
United States
$26,523
7th
Curtis Phelps
United States
$19,911
8th
Max Pescatori
Italy
$15,218
Zinno proved to be a force in this tournament starting on Day 2. He rose to become one of the chip leaders before ending the day with a big lead atop the surviving 18 players. Zinno took that Day 2 chip lead and put it to good work on Day 3, staying at the top of the leaderboard and coming into the final table in first place. It was the Zinno show from there as he put on a dominating performance that resulted in his fourth career WSOP gold bracelet.
In the end, Zinno defeated Randy Ohel in heads-up play. Ohel was down about 2-to-1 in chips to began the heads-up match. He pulled close to even at one point, but ultimately Zinno proved too tough to overcome. On the final hand, Zinno had Ohel drawing dead in razz after sixth street was dealt and that was all she wrote for the $1,500 H.O.R.S.E. tournament.
With the win, Zinno's two-event total is $343,508 and he moved to the top of the overall 2021 WSOP Player of the Year leaderboard with 2,127.07 points.
"I'm very proud that hard work has put me in a position to allow this to happen," Zinno said. "It's completely unexpected."
While Zinno is humble to suggest that his success are unexpected, it's easy to lean that the wins are expected when you understand the work that Zinno has been putting in to take his game to the next level. He spent much of the pandemic practicing all of the mixed games relentlessly by playing, studying, watching videos, and just generally thinking about the games whenever he could. Zinno dropped the word "obsession" when describing the time and effort he put in, which is a word often associated with those that rise to the top of any area of life.
Now that Zinno is here at the 2021 WSOP, he's taking everything he learned and putting it to work. He said he's also trying his best to take the WSOP as seriously as possible, which to him means showing up on time, paying attention to all hands played at his table, and staying focused.
"If that is what your dream is, then you have to put in a lot of work to at least give yourself a shot at doing it, even if you know the shot is still small," Zinno said. "The universe now and then just throws you a bone, and this was a really pretty golden bone."
When Zinno won his first gold bracelet this WSOP, he mentioned that the victory came at a very welcomed time in his life and that the win helped him get his confidence back. He spoke about how that boost to his confidence played a role in his success in the $1,500 H.O.R.S.E. tournament.
"Once that happens, there's an inexplicable feeling that sometimes you feel like things are just going to go your way. You might get a little extra aggressive in a hand, or you might find a fold in a spot where you might normally call. I trust my decisions more and I'm more in tune with everything. The confidence and morale boost is huge."
With two WSOP gold bracelets won this series and four cashes in total, Zinno is setting his immediate sights on a third WSOP gold bracelet and the WSOP Player of the Year title, but both of those things would be byproducts of what he says is his real goal, and that's playing his A-game every day of the 2021 WSOP.
On a greater scale, Zinno said he is hoping to become a positive ambassador within the poker community, especially when it comes to welcoming new players that want to learn new games. Outside of poker, Zinno hopes to continue to put himself in a position to help those in need. Providing positive guidance means a lot to Zinno. He spoke proudly of the opportunities he's had to offer guidance and hopes to continue to leverage his success to do good outside of the game as well as in it.
Connect with PokerGO.com on Facebook, Twitter, and Instagram. Use code "WSOP2021" for $20 off an annual PokerGO.com subscription now!