Justin Bonomo is eight years removed from Poker Hall of Fame eligibility, and just two players stand between him and being ranked poker's biggest winner of all time in live tournaments after he took down the 2018 Super High Roller Bowl for $5,000,000 last night. This is the story of the heater of a lifetime, and belonging among poker's greats.
After the final card hit the felt inside the PokerGO Studio, Justin Bonomo said, "It doesn't feel real. The past seven months don't feel like real life. During my 17 years in poker, I've had nothing even close to this. It's just crazy."
116 days ago, we wrote a story on Justin Bonomo during the inaugural U.S. Poker Open. Bonomo won the $10,000 opening event for $190,400 and in this story, a results overview was titled "The Heater" showed tournament earnings of $2.8 million from December 1st until that day. Those numbers seem silly now, as Bonomo's cashed for $11,658,625 since.
Yes, you read that correctly. $11.6 million in 116 days.
"Jesus Christ," Bonomo quietly uttered under his breath, seemingly in awe of his own stats.
With a look of shock in his eyes and a smile chiseled onto his face, Bonomo shook his head as we summarized his results that ended with the fact that he's now the third player in poker history to eclipse the $30-million mark in career live tournament earnings.
"That's just insane," Bonomo said.
Does anybody know if the Twilight Zone episode with the gambler who can't lose has a happy ending? Asking for a friend

— Justin Bonomo (@JustinBonomo) February 4, 2018
"I've never felt as though, if I retired from the game, that I could be really proud of what I've accomplished to the point where I've gotten everything I deserved. If for some reason I had to retire tomorrow, I'd have nothing but pride, and there would be nothing left to be written in that story."
Bonomo, however, has no intentions of slowing down or leaving the game behind him, feeling as though he's at the top of his game, and on top of the No Limit Hold'em tournament game. Despite the game's rankings having obvious flaws, as buy-ins skyrocketed over the last decade, he cherishes his place among the game's greats.
"Every tournament ranking system has obvious flaws, but the cool thing about the all-time money list is that it factors in every event ever played. It's clearly not a pure skill based ranking, but everyone near the top of that list has accomplished something mega important and I'm really happy to be towards the top of it."
At the live final table on PokerGO last night, Bonomo contended with the likes of Jason Koon, Christoph Vogelsang, Mikita Badizakouski, Nick Petrangelo and Daniel Negreanu. There was no shortage of support for the eventual winner as he battled his way through an elite field, with his mother heading up his cheering section.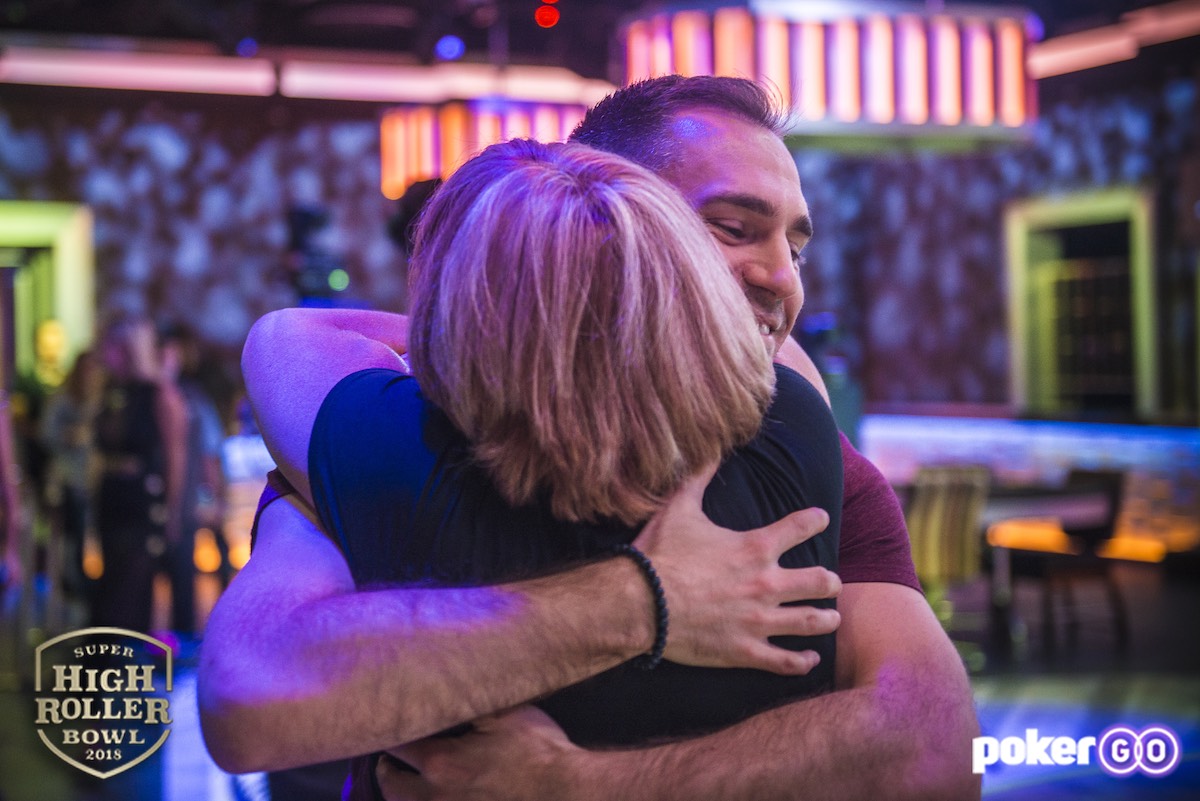 "My mom has been my biggest fan, and her support helped so much. Every time I'm doing well she follows the updates online and calls my neighbors and grandparents bragging about the pot I just won.
Showing the ultimate belief in her son, Justin Bonomo explained how she booked her flight to make sure she wouldn't miss this final table three months ago.
"I'm so happy that I've got to win it with her watching. This is definitely a career-defining moment. Honestly, combining win after win in the last seven months is just ridiculous and this just feels unbelievable."
Currently, five players in the Top 30 of the game's all-time money list are eligible for the Hall of Fame, their names are Daniel Negreanu, Erik Seidel, Phil Ivey, Phil Hellmuth and John Juanda, and they all have all been inducted. Whether Justin Bonomo makes it into the Hall of Fame remains to be seen, but with two Super High Roller Bowl wins in the span of a few months, a dedicated work ethic and a place among the biggest winners of all time; he's made his case.
"I'm happy with what I have accomplished. I don't need to prove anything to anyone. I'm just going to keep playing make money and if I'm being honest that is the main reason why I play the game."
Relive the entire 2018 Super High Roller Bowl now on PokerGO. New to PokerGO? Subscribe right now and enjoy more than 100 days of live poker action as well as an extensive on-demand library.